Slip-And-Fall While At Walmart
If you've been injured in a slip-and-fall accident at Walmart, you may be entitled to compensation. The injury lawyers at Englander Peebles are experienced in representing people who have been injured at Walmart and other big-box retailers. Our attorneys will work tirelessly to help you and your family obtain the maximum compensation possible.
Time is of the essence in any personal injury case. Contact our attorneys right away to start the claims process. Call 954-500-4878 or reach out via our online form to schedule a free initial consultation.
The Walmart Slip-And-Fall Claims Process
Walmart is one of the largest corporations in the world, with thousands of stores across the United States, Europe, Asia and South America. It has its own claims adjusting company, called Claims Management Inc., which employs highly trained and skilled adjusters.
After an accident at Walmart, you will likely receive a phone call from Claims Management attempting to obtain information from you. It will likely try and get you to provide a recorded statement. It can use anything you say to try and deny and/or reduce the value of your claim.
Prior to providing a recorded statement, you should contact a lawyer to understand your rights. Our attorneys will handle all communications with the insurance adjuster on your behalf and will guide you through the claims process.
Proving Negligence In Walmart Slip-And-Fall Cases
In order to win a slip-and-fall case against Walmart, the evidence must be presented to prove that the staff failed to keep the store in a reasonably safe condition. It must also be shown that the staff knew or should have known that a dangerous condition existed in the parking lot or store and it failed to fix the dangerous condition or provide appropriate notice to customers.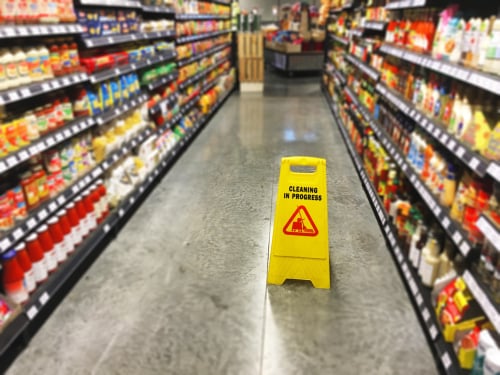 At Englander Peebles, one of the first steps we take when we are retained for a Walmart slip-and-fall case is to demand that the store preserve any video of the incident. The surveillance systems at most businesses will automatically delete the video after a set number of days. Obtaining a copy of the video of the incident can be invaluable in proving that a dangerous condition existed and was not appropriately addressed by Walmart staff.
Common Injuries Sustained In Slip-And-Fall Accidents At Walmart Stores
A slip-and-fall can injure just about any part of your body. Medical bills and lost wages can add up quickly, but if your fall was caused by the negligence of staff, you may be entitled to compensation to cover these losses as well as pain and suffering and emotional distress.
Some of the most common injuries sustained include:
Broken bones
Back injuries
Shoulder Injuries
Sprains
Lacerations
Contact Us At Englander Peebles Today
Although no amount of compensation can undo the trauma of a serious injury, filing a successful personal injury claim may allow you to regain your financial footing. At Englander Peebles, we take pride in helping the injured recover the funds they need to pay for medical bills and lost income so they can move on with life. Call 954-500-4878 today to schedule a free initial consultation with one of our injury attorneys. An online contact form is also available for your convenience.