Implications Of A Head-On Collision
People use the term "head-on collision" to describe what happens when the front of one vehicle collides with the front of another vehicle. Typically, neither vehicle gives way, and nothing absorbs the force of the impact. The effect is similar to hitting a brick wall. This is why head-on collisions often cause drivers and their passengers to suffer serious bodily injuries. Many victims of these crashes die.
If a careless or reckless driver caused a head-on collision that severely injured you or caused the loss of your loved one, you can turn to the experienced Fort Lauderdale car accident lawyers of Englander Peebles for the legal help you need. We know how stressful it can be to deal with the aftermath of a traumatic event such as a head-on crash. We will skillfully handle all aspects of your case, allowing you to focus on your health and your family instead of fighting with an insurance company. Our goal will be to recover the maximum amount of compensation for you.
To discuss your case, contact us today and schedule a free consultation with us. Call 954-500-4878 or fill out our online form. We serve clients throughout Florida from our offices in Fort Lauderdale and Miami. If you can't come to us, we will come to you. We can meet at your home, the hospital or any other location that is more convenient for you.
What Are Common Causes Of Head-On Crashes?
A study by the National Transportation Safety Board (NTSB) found that, on average, 261 fatal wrong-way collisions occur each year in our country on divided highways, resulting in the loss of 357 lives. Many of these fatal crashes are head-on collisions.
In fact, the NTSB found that 82% of wrong-way crashes are head-on collisions, typically with one or both cars traveling at highway speed. According to Florida crash statistics, 75 fatal wrong-side or wrong-way crashes occurred on our state's roads in 2017 alone.
These crashes rarely are random events. They result from drivers' careless and reckless behavior, such as:
Speeding Or Aggressive Driving
A driver who is going well above the posted speed limit or going too fast for road and weather conditions can lose control of the vehicle and cross the centerline. Some drivers cause head-on crashes when they turn directly in front of an approaching vehicle at an intersection.
Distracted Drivers
If a driver is not paying full attention to the road because they are texting or talking on a cellphone, the driver can easily drift into oncoming traffic or fail to see a "Do Not Enter" sign.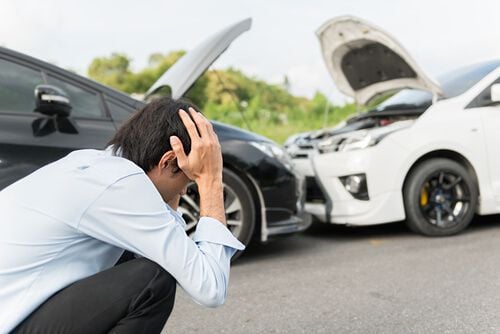 Drunk Driving
The National Transportation Safety Board (NTSB) found that every year, on average, more than half of wrong-way accidents involve drivers impaired by alcohol. A drunk driver, or a driver impaired by illegal or prescription drugs, simply lacks the judgment and motor control that is necessary to drive safely.
Drowsy Driving
All too often, drivers push their limits. This is especially a problem with commercial truck drivers. A driver who is falling asleep at the wheel or dangerously fatigued may cross into the opposing lane of traffic or drift off the road and overcorrect, causing a head-on crash.
In some head-on collisions, driver negligence does not play a role. The collisions result from an automotive defect such as a blown tire or steering column defect. In those types of accidents, the manufacturer of the defective part or a mechanic who made a negligent repair can potentially be held responsible. The negligence of a government agency or its contractors can also create dangerous road conditions, such as potholes or soft shoulders, that can contribute to head-on collisions.
What Are Common Injuries In Head-On Collisions?
The sheer force of impact in a head-on crash can cause devastating or, in many cases, fatal injuries. This is true even when safety features such as air bags and seat belts operate properly. At Englander Peebles, we often work with victims of head-on crashes who have suffered harm such as:
Internal organ injuries
Soft tissue damage
Crushed or fractured bones
Post-traumatic stress disorder (PTSD)
Burns (due to an explosion or friction)
In most cases, head-on crash victims require extensive medical care, including surgery and hospitalization. They may also need ongoing medication and rehabilitation. Many victims are left with permanent disabilities that prevent them from returning to work and enjoying life as they did before the crash. Our car accident attorneys in Fort Lauderdale are committed to pursuing maximum compensation for these victims and their families.
How Can Our Accident Lawyers Help You After A Head-On Crash?
The attorneys at Englander Peebles will launch an immediate investigation of the head-on collision that caused your injuries or the loss of your loved one. Because of our experience with car accident investigations, we know how to collect and analyze evidence that shows why the accident happened and who should be held responsible for it.
We can use the information that we gather from our thorough investigation to demand full and fair compensation for you. If an insurance company refuses to make a reasonable settlement offer, we will be ready to fight for you in court. In fact, insurance companies know that when we are on a case, we won't back down. We can and will go to trial if that's what it takes.
Our law firm is dedicated to outstanding customer service. We will go the extra mile to ensure that you get the personal attention you deserve. You can count on us to explain your case and answer all your questions. Our goal is to make the process as smooth as possible for you and your loved ones.
Call Today To Know Your Options
If a negligent driver caused a head-on collision that left you with serious injuries or the loss of a loved one, you can count on Englander Peebles to provide the aggressive legal representation that you need. We will fight for the maximum amount in your case, and we will charge you nothing unless we recover compensation for you. To learn more in a free consultation, call us at 954-500-4878 or reach us online today.