Fort Lauderdale Train Accident Lawyer
If you were injured as a passenger on a Brightline train or lost a loved one in a Brightline train accident, you may have grounds for a personal injury or wrongful death claim. The Fort Lauderdale train accident lawyers at Englander Peebles can evaluate your case for free and help you determine the most strategic way to proceed.
Our South Florida personal injury attorneys take great pride in helping survivors and victims pursue justice and the compensation they need to move on with life. Schedule a free consultation today with one of our experienced personal injury attorneys by calling 954-500-4878.
Who Has Grounds To File A Claim After A Brightline Train Accident?
Like all other personal injury and wrongful death claims, several elements must exist for a train accident-related claim to be successful. It must be shown that the railroad's negligence (or the negligence of another party named in the claim) contributed to your injury or loss.
Proving negligence and liability can be very challenging after Brightline train accidents since there are many ways these accidents can happen, some of which may be out of Brightline's control. You need an experienced and aggressive attorney on your side to advocate for your legal rights.
Train companies are responsible for taking reasonable safety measures to safeguard their passengers and other people from injury. These measures include using adequate gates and signals at train crossings. If these safety features are not installed or properly maintained and a person is injured or dies as a result, victims or certain surviving family members may have grounds for a personal injury or wrongful death claim.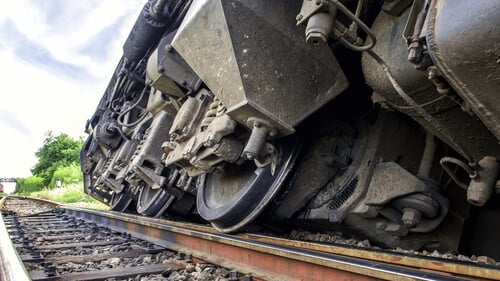 What Damages Might Be Recoverable In Florida Train Accident Cases?
In the state of Florida, plaintiffs in personal injury and wrongful death cases are able to pursue compensation for compensatory and potentially punitive damages. Compensatory damages include economic damages (e.g. medical bills, lost wages, and other objectively verifiable losses) and non-economic damages (e.g. mental pain and suffering, loss of support and services, and loss of companionship). Punitive damages are intended to punish the victim for gross negligence or intentional misconduct.
The Fort Lauderdale personal injury lawyers at Englander Peebles can help you gather the evidence needed to prove negligence and the value of your damages. If we are unable to secure a fair settlement on your behalf, we are not afraid to take your case to trial to pursue justice.
Call A Fort Lauderdale Train Accident Lawyer Today
At Englander Peebles, we understand the tremendous physical and psychological hardship caused by train accidents. Our Broward County injury attorneys will represent your interests with the utmost compassion and tenacity. Call us today at 954-500-4878 to schedule a free initial consultation.