A Truck Driver's Liability When Overloaded On The Road
An overloaded or overweight truck is difficult to control and is more likely to cause serious injuries or death in the event of an accident. If you were injured or lost a family member in a truck crash, you may require the assistance of our experienced injury attorneys at Englander Peebles to investigate the collision and determine if the truck driver and/or trucking company are liable for your damages.
You may be entitled to compensation for lost wages, medical bills and noneconomic damages. We can help you navigate the claims process, avoid costly mistakes and fight for the compensation to which you are entitled. Schedule a free consultation today by calling 954-500-4878 or filling out our online form.
Why Are Overloaded And Overweight Semi Trucks So Dangerous?
Trucking companies are responsible for ensuring that all their vehicles meet federal and state weight restrictions before they go out on the road. They are also required to make sure their cargo is properly loaded and balanced. If an overloaded truck causes an accident, the trucking company can be named as a defendant in the lawsuit.
Below are a few reasons why overloaded and overweight semi trucks are so dangerous: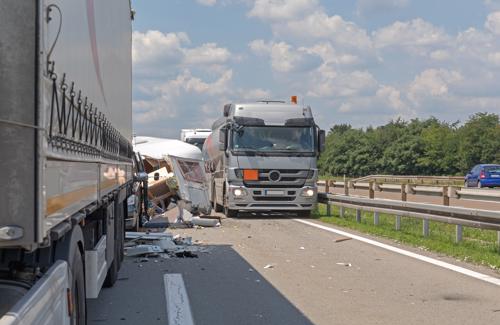 Overloaded trucks are more likely to roll over due to their higher center of gravity.
They require more stopping distance, increasing the likelihood of a rear-end collision.
They take a long time to drive uphill, which increases the risk of accidents for vehicles approaching blind corners.
They are more likely to have tire blowouts.
They can cause certain bridges, overpasses and roads to collapse.
When weight shifts to the back of an overloaded truck, it can become difficult to handle.
Overloaded trucks are harder to stop when traveling downhill, and the extra stress on the brakes increases the risk of brake failure.
The Importance Of Hiring A Lawyer As Soon As Possible
To give your personal injury claim the most favorable chance of success, there are important steps you must take over the days, weeks and months following a truck accident. For example, if you fail to undergo a medical evaluation for your injuries, the insurance company may argue that your injuries were caused by something else or that your own negligence caused them to worsen. It is also possible that crucial evidence may disappear over time.
An experienced truck accident lawyer at Englander Peebles can gather the evidence needed to prove negligence, liability and damages. We can also help you avoid costly mistakes, such as posting sensitive information about your case on social media, making a recorded statement to the insurance adjuster without proper preparation or accepting a settlement too early.
Contact Englander Peebles Today
If you were seriously injured or lost a loved one in a truck accident, contact Englander Peebles for a free case evaluation. Call 954-500-4878 today or fill out our online form to discuss your matter.