Fort Lauderdale Marina Slip-And-Fall Lawyers
You May Be Entitled To Compensation If You Were Injured Due To Slip-And-Fall At A Marina
If you were injured in a slip-and-fall accident at a marina in Florida, you may be wondering if you have grounds for a personal injury claim. The best way to answer this question is to discuss your case with one of our personal injury attorneys.
During your free initial consultation at Englander Peebles, an experienced injury lawyer will evaluate your marina slip-and-fall case and help you determine the most strategic way to pursue compensation. Time is of the essence in any personal injury case, so it is important that you contact our office as soon as possible. Call 954-500-4878 to speak with us or use our online contact form.
What Should I Do After A Slip-And-Fall At A Marina in Florida?
Your actions and statements after a slip-and-fall may have a profound impact on the outcome of your personal injury claim. Follow these six steps to give your claim a favorable chance of success:
Take pictures of your injury and the hazard that caused it.
Look around to see if a camera recorded the accident.
Report the accident and file an incident report with a worker at the marina.
Write down the names and phone numbers of eyewitnesses.
Visit your doctor immediately to evaluate your injuries.
Contact a South Florida personal injury attorney to discuss your case.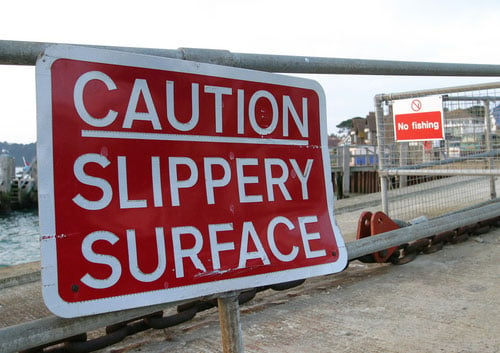 How To Avoid Mistakes After A Slip-And-Fall Accident
It can seem impossible to think clearly after being injured in a slip-and-fall, but one small mistake or misguided statement could be all it takes to compromise your claim. To avoid making those mistakes after a slip-and-fall, you should do the following:
Report The Incident
It is common to feel embarrassed after a serious fall, and many people choose to get right back up and walk it off. Although you might not like the idea of reporting the incident, failing to do so may make it more difficult to file a personal injury claim.
Talk To Witnesses
Eyewitness testimony often plays an important role in slip-and-fall cases. This is especially true in our state, since Florida premises liability law puts the burden on the injured party to prove that the business establishment had constructive or actual knowledge of the hazard and should have taken action to fix it.
If a witness saw a marina worker cause the hazard or if a witness reported the hazard to a marina worker before the incident, their testimony may help your slip-and-fall injury lawyer prove negligence.
Get A Medical Evaluation
To avoid potential disputes, you should visit your doctor as soon as possible after you are injured. If you put off your doctor's visit, the opposing party might argue that your own negligence contributed to the severity of your injury or that your injury was caused by something else.
Call A Lawyer Today
If you were injured in a marina slip-and-fall accident, contact Englander Peebles in Fort Lauderdale to discuss your case. Call 954-500-4878 today or fill out our online form to speak with our lawyers and set up a free initial consultation.