18-Wheeler Accidents Are More Complicated Than You Might Think.
Commercial trucks are some of the largest vehicles on the road. When a tractor trailer or another heavy truck is involved in a motor vehicle accident, the size of the truck often increases the severity of the crash and the injuries that victims suffer – particularly the occupants of other vehicles involved in the crash. If you or a loved one has been injured in a trucking accident, contact our personal injury law firm today for a free consultation.
While commercial drivers are frequently to blame for accidents, sometimes crashes result from issues with the trucks or their cargoes. Commercial vehicles are required to be maintained in compliance with strict state and federal regulations. A trucking company or another company may be liable for a victim's injuries when an accident is the result of improper maintenance or failure to maintain a vehicle. Contact our Fort Lauderdale truck accident lawyers at Englander Peebles today.
How Do Truck And Car Accidents Differ?
Commercial trucking accidents are much more complicated than simple accidents that involve two passenger vehicles. Depending on the cause, multiple parties could bear liability for a victim's injuries.
Commercial trucking companies are required to carry insurance policies that typically have much higher limits than those available on most traditional automobile insurance policies. Because truck drivers rarely have the personal insurance limits or personal resources necessary to pay the damages that are at stake in these cases, the trucking company's liability becomes extremely important.
Needless to say, the insurers for commercial trucks are not more inclined to provide compensation to victims simply because of the higher limits. Instead, most insurance companies will aggressively try to push victims into accepting settlements that may seem generous but rarely account for the full extent of losses suffered by the accident victim.
Evidence To Help Prove A Truck Accident Claim
The success of Broward County truck accident injury claims stemming from commercial truck accidents often hinges on the strength of the evidence secured by the personal injury attorney handling the case. Commercial trucking companies are required to keep paper or electronic records of important information, and it is not uncommon for such records to suddenly go "missing" following a truck crash.
Some of the types of paper or electronic records that commercial trucking companies must maintain include:
Truckers' daily logs
Maintenance records
Repairs and tests
Daily, roadside and annual inspections
Trucker training
Complaints about the driver
Another key form of evidence in a trucking accident case is the "black box." The Federal Motor Carrier Safety Administration (FMCSA) requires all commercial vehicles to have black boxes, also called electronic logging devices, or ELDs.
An ELD often records very valuable information relating to truck crashes, including:
Vehicle speed, including speed limit violations
Distance traveled
Gear shifts
Brake application
Truck driver communications
Cruise control use
Air bag deployment
Global Positioning System (GPS) coordinates
This information could come into play in your case. A truck accident lawyer who has experience securing and interpreting information from black boxes will be able to identify all the necessary evidence for your case.
Who Can Be Held Responsible For A Tractor-Trailer Crash?
Liability for a trucking accident is one of the major reasons that these types of crashes are so different from typical passenger vehicle crashes. It is also one of the most important reasons for a victim to immediately seek legal representation, because an experienced semi-truck accident lawyer will know how to identify all negligent parties and make sure they are held accountable.
Some of the parties besides truck drivers that can be liable in some cases for victim injuries include:
Truck drivers
Truck owners
Employers of truck drivers
Maintenance companies
Truck parts manufacturers
Freight owners
Liability can get complicated in truck accident cases. A lawyer will be able to identify all the responsible parties in your case and work to pursue the compensation they owe you.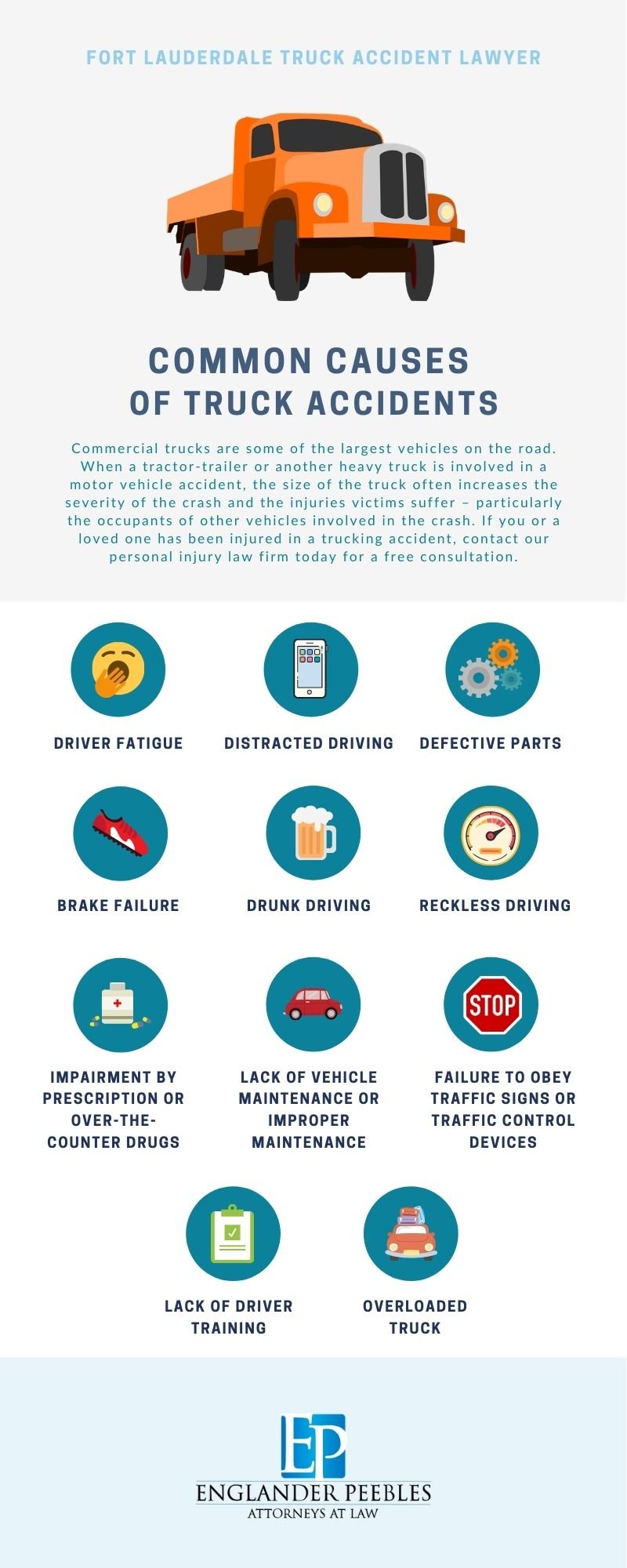 Compensation For Injuries Caused By A Truck Accident In Florida
Damages in trucking crash cases typically come in two main forms: economic and noneconomic. Most victims are awarded damages that are a combination of economic damages and noneconomic damages.
Economic damages are typically out-of-pocket financial losses that the victims suffered. Common kinds of economic damages include:
Medical bills
Lost wages
Diminished earning capacity
Future rehabilitation costs
Property damage
Noneconomic damages, on the other hand, are more subjective. In general, noneconomic damages do not come with a specific dollar amount attached, but that does not make them any less important or recoverable. Pain and suffering is perhaps the most common kind of noneconomic damage award. Others may include emotional distress, disfigurement and loss of enjoyment of life.
While somewhat rare, Florida does also allow for punitive damages in cases involving particularly egregious negligence. Punitive damages might be awarded when a crash is the result of a truck operator driving under the influence (DUI) of drugs or alcohol.
Punitive damages are not awarded to provide additional compensation to victims so much as they are intended to punish defendants and discourage other people from engaging in similar conduct. Florida Statute § 768.73 establishes that punitive damages are limited, or "capped," at three times the compensatory damages or $500,000, whichever is greater.
It is also important to keep in mind that Florida uses a pure comparative fault system of awarding damages. Under this system, a victim is not barred from recovering damages if their negligence contributed to the cause of the accident, but their percentage of negligence will proportionately reduce their final award. For example, a person found to be 25% at fault who is awarded $10,000 would see their award thus reduced by $2,500 and ultimately receive $7,500.
How Long Do You Have To File A Truck Accident Claim In Florida?
Under Florida Statute § 95.11(3), a person has four years to bring a lawsuit for negligence. This time limit is known as the statute of limitations, and it is essentially the same for all kinds of motor vehicle crashes.
When four years have passed since a truck accident, courts will refuse to hear that case, with only very narrow exceptions. For this reason, you need to make sure that you get help from an attorney as soon as possible. Not only can our attorneys at Englander Peebles negotiate with insurers to make sure you get all of the compensation you are entitled to, but we are not afraid to file a lawsuit within the statute of limitations if an insurance company refuses to provide an adequate settlement.
Causes Of Commercial Trucking Accidents In Fort Lauderdale
Large vehicles such as commercial trucks are very complex. As a result, it is entirely possible that more than one factor caused a crash – and more than one party is liable. Some of the most common causes of commercial trucking accidents include:
Driver fatigue
Distracted driving
Defective parts
Brake failure
Drunk driving
Impairment by prescription or over-the-counter drugs
Lack of vehicle maintenance or improper maintenance
Reckless driving
Failure to obey traffic signs or traffic control devices
Lack of driver training
Overloaded trucks
We can immediately begin conducting an exhaustive, independent investigation of your crash to determine exactly what the cause was.
Common Types Of Truck Accident Cases That We Handle In Fort Lauderdale
Some of the types of commercial truck crashes that Englander Peebles handles most frequently include:
Tire Blowout Accidents
The phrase "road gators" is used to describe the treads of tires that cover many highways in Florida because the treads often appear to have the texture of an alligator's back. When a tire blowout occurs on a commercial truck, the driver is subject to the same loss of control that affects drivers of passenger vehicles that experience blowouts. Any of a number of factors can cause a tire blowout. Hot temperatures are one of the most common reasons (the summer is often considered to be prime tire blowout season), but other factors, such as potholes, underinflation, an overloaded truck or simple wear and tear can also cause blowouts.
Overloaded Accidents
Florida Highway Safety and Motor Vehicles (FLHSMV) states that the maximum weight for a commercial truck is a gross vehicle weight rating (GVWR) of 80,000 pounds, although special permits may be available for certain oversize or overweight vehicles. A single axle truck has a maximum of 22,000 pounds, while the maximum weight for a tandem axle is 44,000 pounds.
Additionally, Congress enacted the Bridge Formula in 1975 to limit the weight-to-length ratio of vehicles crossing bridges by spreading weight over additional axles or by increasing the distance between axles. The Federal Highway Administration (FHWA) is responsible for revising Bridge Formula Weights. Overloaded commercial trucks can be dangerous because they are more prone to tire blowouts, possible rollover accidents and increased stopping distances.
Fatigue-Related Accidents
Driver fatigue is often the result of physical or mental exertion that impairs performance because of inadequate sleep, longer work hours or any one of a number of other factors. The Federal Motor Carrier Safety Administration (FMCSA) Large Truck Crash Causation Study (LTCCS) found that 13% of commercial motor vehicle drivers were considered to have been fatigued at the times of their crashes.
Jackknife Crashes
A jackknifing accident refers to a situation in which the trailer swings out to form a 90-degree angle from the cab of the vehicle, similar to the angle of a jackknife. In most cases, trucks jackknife because the wheels at the front end of the truck lock up while the trailer continues to move forward. A jackknifing accident can swing the trailer into other vehicles, possibly crushing them.
Rollover Accidents
When the vehicle rolling over is a commercial truck, surrounding vehicles can be crushed by the truck, and victims often sustain serious injuries. Some of the most common reasons that truck rollover accidents occur are because of drivers attempting to negotiate turns at high speeds, improperly loaded cargo or oversteering errors.
Rear-End Collisions
Rear-end collisions caused by commercial trucks have the potential to cause serious injuries – even at low speeds. Some of the most common causes of rear-end truck accidents include speeding, brake failure and distracted driving.
T-Bone Accidents
Also known as side-impact or broadside crashes, T-bone collisions occur when commercial trucks strike the sides of motor vehicles. Such accidents are especially dangerous to the occupants of the other motor vehicles because the point of impact is often where people are seated. Frequent causes of T-bone crashes include failure to stop or yield, improper turns or inclement weather.
Underride And Override Crashes
An underride accident occurs when another motor vehicle slides under a commercial truck, while an override accident involves a commercial truck running over another vehicle. Both types of accidents have the potential to cause severe or fatal injuries. An override or underride crash can be the result of a truck driver speeding, brake failure or driver fatigue.
Lost Loads
Florida Statute § 316.520(2) establishes that it is the duty of every owner and driver of any vehicle hauling dirt, sand, lime rock, gravel, silica, other similar aggregate, trash, garbage, any inanimate object or objects, or any similar material that could fall or blow from such a vehicle to prevent these materials from falling, blowing or in any way escaping from the vehicle by covering and securing the load with an appropriate cover or a load-securing device.
Similarly, Florida Statute § 316.525(1) requires every truck owner, licensee and driver to use such stanchions, standards, stays, supports, other equipment, appliances or contrivances, together with one or more lock chains or nylon strapping, to fasten the load securely. When a load is not properly secured, various kinds of debris can fly off the vehicle and strike other automobiles, possibly causing other accidents.
Common Injuries That Truck Accidents Cause
The injuries suffered by victims of truck accidents are often quite serious. Not only do victims have lengthy hospital stays that result in enormous medical bills, but many people also require several months, years or even lifetimes of rehabilitation.
Certain injuries also make victims unable to return to work – possibly permanently. Some of the injuries that truck accident victims may suffer include:
Severe lacerations
Fractures (broken bones)
Burn injuries
Traumatic brain injuries (TBIs)
Internal organ damage
Do I Need A Truck Accident Lawyer In Fort Lauderdale?
Were you injured or was your loved one killed in an accident caused by a commercial truck? Make sure that you get legal representation before speaking to any insurance company.
In many cases, insurers for commercial trucks will send representatives to the scenes of these crashes and attempt to have victims sign forms that limit or outright prohibit legal action. In some cases, they may offer settlements that are typically much less than what victims are actually entitled to.
Do not sign anything or make any statements without first contacting a truck accident attorney in Fort Lauderdale with Englander Peebles. You can have our attorneys review your case and answer all your legal questions when you call or fill out an online contact form to take advantage of a free consultation.
Contact A Fort Lauderdale Truck Accident Lawyer With Englander Peebles
If you were injured or a loved one was killed in a trucking accident in Fort Lauderdale, Plantation or another area of South Florida, you need to contact our Fort Lauderdale truck accident lawyers at Englander Peebles as soon as possible. Our experienced car accident attorneys can immediately begin an independent investigation of your crash scene to determine the true cause and work to hold all negligent parties accountable.
Call us at 954-500-4878 or contact us online now to take advantage of a free consultation that will allow our lawyers to provide an honest and thorough evaluation of your truck accident case.