Experienced Lawyers In Spine Injury Cases
People can suffer from spine injuries in all types of accidents. They range from minor disk issues to severe nerve damage that leads to paralysis. Unfortunately, most of these accidents and spine injuries are entirely preventable. They result from the careless or reckless acts of others.
At Englander Peebles in Fort Lauderdale, our experienced and compassionate personal injury lawyers protect the rights of victims and their families. We are aggressive litigators who know how to fight for our clients when dealing with insurance companies.
We understand how a spine injury can change the lives of victims and their loved ones. We will handle all aspects of your case so that you can focus on your health and your family. Call our compassionate personal injury lawyers at 954-500-4878 or reach us online today to learn more in a free consultation.
Types Of Spine Injuries
At Englander Peebles, our attorneys have experience in helping clients with a wide range of spine injuries. As a result, we understand the unique issues that these different types of injuries present, such as:
Spinal Cord Injuries
The spinal cord is the network of nerves that runs down your back roughly from the base of your neck to your pelvis and hips. If these nerves suffer damage due to compression or a direct blow, it can cause a person to suffer paralysis below the point of the injury. The loss of sense and function may be complete or incomplete. In most cases, it is permanent. The victim may need extensive medical treatment, assistive devices, ongoing therapy and a lifetime of care and assistance.
Spinal Column Injuries/Vertebral Fracture
The spinal column is a series of disk-like bones that protect the nerves in the spinal cord. These bones are called vertebrae. In many kinds of accidents, a person can suffer damage to vertebrae that shears nerves, resulting in paralysis.
Vertebral fractures can occur in the cervical, thoracic, lumbar or sacral spine. A vertebral fracture involves a break in the cortex of the bone, leaving the bone in more than one piece. Any part of the vertebra can be fractured, and every break will be unique, fracturing in different patterns and resulting in varying degrees of spine instability.
The greatest complication of a vertebral fracture is an injury to the spinal cord. A fractured vertebra can damage the spinal cord, leading to potentially permanent paralysis. Quadriplegia and paraplegia are common complications that can result from a serious vertebral fracture. Prompt emergency medical care may help reduce the risk of such complications.
Nerve Damage
Even a relatively mild spine injury can result in nerve damage. A person with nerve damage can suffer extreme, debilitating pain. In the worst cases, the person will lose sensation and use due to nerve damage.
Disk Injuries
The gel-like disks that cushion the bones in the spinal column are highly susceptible to harm in an accident. If vertebrae become compressed, it can cause these disks to herniate, or bulge, or possibly rupture. The irritation of surrounding nerves can be highly painful and prevent a person from working or enjoying activities.
At Englander Peebles, we will take the time to understand your spine injury and how it has affected you physically, emotionally and financially. We want to pursue a settlement that fully compensates you for the harm that you have suffered through no fault of your own.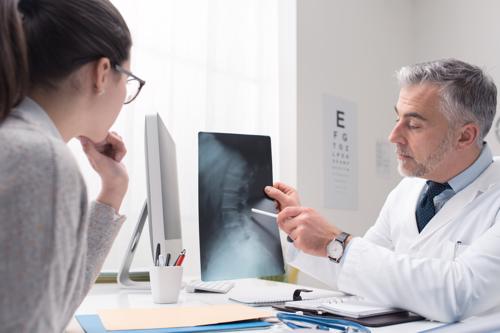 Common Causes Of Spine Injuries In Fort Lauderdale
More than 800 spinal cord injury-related hospitalizations occur in Florida each year, according to the WellFlorida Council. The leading causes of those spine injuries are:
Auto Accidents
The force of impact can cause trauma to the spine, or it can cause a person to bend or twist in a sudden, violent motion, which in turn damages the spine. In many cases, the underlying cause of a car accident is another driver's negligence, such as driving while distracted or impaired by drugs or alcohol or while overly fatigued. That driver should be held accountable.
Falls
A fall from heights, such as from a ladder, roof or scaffolding, can cause spinal damage. A slip-and-fall accident can also occur due to dangerous conditions such as a slippery floor, uneven pavement or a concealed hole. If a property owner's negligence allowed the fall and spinal injury to happen, the owner can and should be held liable.
Assaults
All too often, assaults occur due to the failure of property owners to provide adequate security in areas such as hotels, motels, apartment or condo complexes, shopping centers or parking garages. Victims can suffer a wide range of injuries in these attacks, including damage to the spine.
Sports-Related Incidents
All sports carry a certain level of accepted risk. However, the risk of spine injury reaches an unacceptable level when young athletes are put in dangerous situations, taught incorrect techniques or given improper equipment. In some cases, athletes suffer harm due to the poor handling of a spine injury by coaches, trainers and/or medical staff.
At Englander Peebles, we will thoroughly investigate your case. Our goal will be to get to the truth about why your accident and spine injury occurred and identify whom should be held responsible for it.
Damages For Spine Injury Victims
Our team at Englander Peebles will collect and analyze your medical records to determine the nature and severity of your spine injury. We may also consult with medical experts about the impact of your injury and the type of care and treatment you will need as you move forward. Our goal will be to recover full and fair compensation for you, which may include:
Past and future medical expenses
Lost income and loss of future earning ability
Pain and suffering
Emotional distress
Throughout your case, we will pay close attention to your goals. We will advise you of any settlement offer that you receive and help you determine whether it meets your goals. We will also provide you with regular updates about your case and be available to answer your questions. We take pride in providing our clients with the highest level of client service available in Fort Lauderdale.
Call To Discuss Your Case And Address Your Concerns
Our attorneys at Englander Peebles prepare spine injury cases for trial. Doing so prepares us for settlement negotiations with insurance companies. We are prepared to deal with them and fight for the compensation that our clients are due. We know how important that compensation will be for our clients as they move ahead.
To discuss the specific facts of your case, call us at 954-500-4878 or reach us online today. Our initial consultations are always free. You will pay no costs or fees unless we secure compensation for you.