The Importance of Having Experienced Legal Advice After Neck Injuries
Neck injuries are common in all types of accidents. People involved in auto accidents, for instance, may suffer anything from whiplash to paralysis because of neck trauma. A person's neck can also become injured due to a slip-and-fall, a defective product or an accident that occurs in a workplace such as a factory or construction site. In many cases, victims are left with major medical expenses, a tremendous amount of lost income and immense pain and suffering.
At Englander Peebles, our Fort Lauderdale neck injury lawyers understand the challenges that injury victims and their families face. We are here to handle every aspect of your case and help ease the stress and burdens that you are facing. If someone else's negligence caused the injury, we will fight for the maximum amount of compensation for you. We won't let an insurance company take advantage of you.
To learn more about how our lawyers can assist you, call 954-500-4878 or reach us online today. We will evaluate your case for free. We also will not charge a fee unless we secure compensation for you.
What Are The Different Types Of Neck Injuries?
Our attorneys dedicate a significant amount of their practice to helping car, truck and motorcycle accident victims. One of the most common injuries that victims of these accidents suffer is a soft tissue neck injury known as whiplash. The injury occurs when one's neck whips back and forth upon impact. That sudden, violent motion can strain ligaments, tendons and muscles in the neck, causing a victim to suffer chronic, debilitating pain.
However, whiplash is not the only type of neck injury that victims of car crashes and other types of accidents suffer. Other common neck injuries are:
Herniated Disk
A traumatic blow to the neck can cause one of the disks that act as a cushion between bones in the spine, or vertebrae, to leak fluid into the spinal canal. The leak can put pressure on spinal nerves and cause great pain, numbness or tingling.
Bulging Disk
When a disk "bulges," it does not rupture and leak fluid as with a herniated disk. However, the bulging disk can still touch and impinge on nerves in the spinal cord and produce chronic pain and discomfort.
Fractured Vertebrae
These include the bones in the neck form the cervical area of the spine. If a person suffers a cervical fracture, it may result in a loss of feeling and function, or paralysis, in all areas of the body below the point of the fracture. It depends on nerve damage that accompanies the fracture. A "broken neck" is one of the most severe injuries that an accident victim can suffer. Victims typically require a lifetime of treatment and constant care.
Because of their experience with neck injury claims in Fort Lauderdale, our attorneys at Englander Peebles understand the challenges that victims face. We are sensitive to the needs of neck injury victims, and we are aggressive when it comes to pursuing the compensation they and their families will need in order to move forward with their lives.
What Are The Most Common Causes Of Neck Injuries?
As stated above, neck injuries can occur in many different types of accidents. Our lawyers frequently work with people in Fort Lauderdale who suffered neck injuries due to:
Auto crashes
Motorcycle accidents
Truck wrecks
Bicycle accidents
Pedestrian accidents
Slip-and-falls
Swimming pool accidents
Construction and other workplace accidents
Nursing home abuse and neglect
Defective products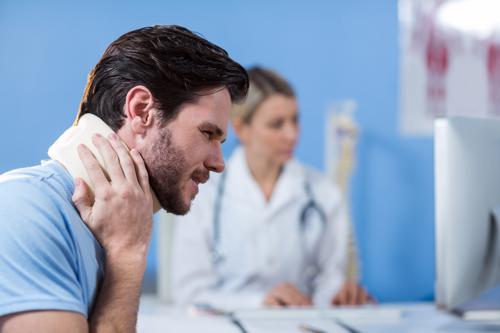 The common thread through all of these accidents is the negligence of individuals, companies or government agencies. In other words, these are not really "accidents." Instead, they are the products of careless and reckless decisions and actions. At Englander Peebles, we work hard to hold those negligent parties accountable and recover all compensation that our clients are due.
How Do You Prove Liability In Neck Injury Cases?
Different types of neck injury cases in Florida require different types of proof. However, generally speaking, the four main elements that a victim must establish in order to hold another party liable for their neck injury are:
Duty
The other party must have owed a duty of care to you. For instance, drivers owe a duty of care to everyone else on or near the road to drive in a reasonable, safe manner.
Breach
The other party must have done something to breach the duty of care owed to you. A driver, for example, can commit this breach by speeding, tailgating or driving while impaired or distracted by texting or talking on the phone.
Causation
A relationship must exist between your neck injury and the party's breach of the duty of care owed to you. It is not enough to show that a driver acted negligently behind the wheel. Instead, you would need to show that the driver's negligence caused the accident and, in turn, the harm you suffered.
Damages
You must establish that your neck injury caused you to suffer actual physical, emotional and, ultimately, financial harm such as medical expenses, lost income and emotional distress.
Because of our law firm's extensive experience with neck injury claims, we will know how to investigate your case in order to gather evidence that can establish these elements. We will know how to make a solid settlement demand. If an insurance company fails to make a settlement offer that meets your needs and objectives, you can count on our experienced trial lawyers to present your case in the courtroom. We always prepare cases for trial.
Get Help From A Fort Lauderdale Neck Injury Lawyer
At Englander Peebles, we are dedicated to providing neck injury victims and their families in Fort Lauderdale and throughout Florida with skilled and aggressive legal representation. We understand the life-changing nature of these injuries. That is why we will work quickly to investigate your neck injury claim and build a strong case for maximum compensation for you. To discuss your case in a free and confidential consultation, contact us today by calling 954-500-4878 or leaving your contact information in our online form.