Motorcycle Intersection Accidents Are Very Common
While a motorcycle accident can happen at any time, there are certain scenarios when collisions are more likely to occur. Nearly half of all motorcycle accidents happen at intersections. Although riders can reduce their risk by obeying traffic lights and stop signs, all it takes is one drunk or distracted driver to cause a serious wreck. If you were injured in a motorcycle crash by a negligent driver, you need to contact an experienced lawyer to discuss your case.
At Englander Peebles, we are proud to help the injured pursue justice and the compensation they need after motorcycle accidents at intersections. Our attorneys represent clients in Fort Lauderdale and throughout Florida.
What Are The Most Common Causes Of Motorcycle Accidents At Intersections?
The first step in preventing motorcycle collisions is to understand how they happen in the first place. There are many causes of motorcycle accidents at intersections, and you can reduce your risk by anticipating dangerous scenarios and taking evasive action.
Some of the most common causes of these collisions are:
A driver sees a light turning red and speeds through the intersection
A driver fails to yield when making a left turn
A driver's view is obstructed by vehicles, shrubbery or buildings adjacent to the intersection
Poor weather conditions cause a driver or motorcyclist to lose control
A driver does not see the motorcycle at the intersection and causes a rear-end collision
A driver is drunk, on drugs or distracted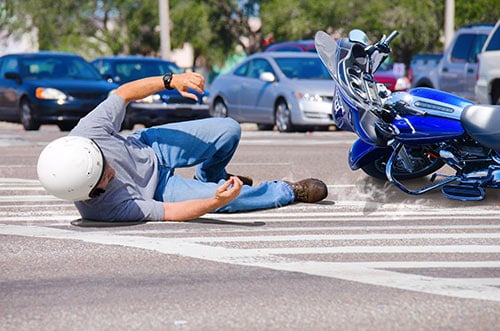 Avoiding Motorcycle Accidents At Intersections
Although you cannot control the actions of other drivers and some collisions are simply unavoidable, there are steps all riders should take to try and avoid accidents at intersections:
Start braking early when approaching a red or yellow light to reduce the risk of skidding or causing a rear-end collision.
Reduce your speed and proceed cautiously when approaching an intersection where vision is obstructed by parked vehicles or buildings.
When passing driveways, watch out for vehicles backing out unexpectedly.
Do not ride in vehicles' blind spots.
Do not ride between vehicles at intersections.
Increase your visibility by using your headlight, a reflective jacket and bright clothing.
Can I Seek Punitive Damages After A Motorcycle Accident?
The answer to this question depends on the cause of your collision. Punitive damages are intended to punish a defendant for egregious behavior, so if the accident was caused by a benign factor, like poor weather, punitive damages would most likely not be recoverable. However, if the at-fault driver was under the influence of alcohol or drugs or texting when the crash occurred, you may be able to recover punitive damages since these behaviors constitute gross negligence.
Contact The Motorcycle Accident Lawyers At Englander Peebles Today
If you were hurt or lost a loved one in a motorcycle accident with a negligent driver, contact our office to discuss your case. Our Broward County personal injury attorneys can help you obtain compensation for medical bills, lost wages, pain and suffering, and other damages after a motorcycle accident. Call the attorneys at Englander Peebles today at 954-500-4878 to schedule a free consultation or by filling out this online form to share your contact information.