Motorcycle Accidents Can Leave Riders Severely Injured
Despite the large number of motorcycles in Florida, motorcyclists remain much more susceptible to serious injuries when they are involved in motor vehicle accidents because of their inherent lack of protection.
In many cases, motorcycle accidents are the results of other drivers' negligence. Motorists in cars and trucks occasionally misjudge the speeds at which motorcycles are traveling as well as their distance from them.
It can seem impossible to remain calm and think clearly after a motorcycle accident – especially if you were injured. But your statements and actions at the scene and over the weeks that follow will have a major impact on the outcome of your personal injury claim. One small oversight could be all it takes to compromise your case. The Broward County motorcycle accident attorneys at Englander Peebles can help you avoid costly mistakes and will fight for the compensation to which you are entitled.
Your case is just as important to us as it is to you. Insurance companies will go to great lengths to pay out as little as possible, but we have the knowledge, resources and courtroom experience to even the playing field and help you enforce your rights. Call our Fort Lauderdale personal injury lawyers today at 954-500-4878  to schedule a free consultation.
Fort Lauderdale Motorcycle Accident Lawyers
While helmets may help reduce the severity of certain head injuries, most of the rest of a motorcyclist's body is left exposed to numerous kinds of harm when they are involved in a wreck. Victims of motorcycle crashes often suffer severe injuries that can result in significant medical expenses, thousands of dollars in lost income and indescribable pain and suffering.
If you have been injured in a motorcycle crash that was caused by someone else, the Fort Lauderdale motorcycle accident attorneys at Englander Peebles want to help you. Contact us now by phone or online for a free claim review and advice about your best legal options for recovery.
Gary B. Englander and Warren Q. Peebles make themselves available 24 hours a day, seven days a week to answer any and all of your legal questions.
What Six Steps Should I Take After A Motorcycle Accident?
The process of filing a personal injury claim begins at the scene of the accident. Here are six tips to give your claim a better chance of success.
Call The Police
Calling the police might seem like common sense after a serious collision, but what if you weren't severely injured? As a general rule, you should contact law enforcement after an accident because there are times that symptoms will not appear until the next day. If you eventually decide to file a claim, the police report can assist in proving liability and damages.
Take Photos
Photos can tell the story of how the accident occurred and will be especially important if your account of events differs from the other driver's account or the police report. Be sure to enable your time stamp function and take photos from multiple angles that show:
The positions of vehicles
Injuries
Property damage
Skid marks
Traffic signs
The intersection (if applicable)
Record The Contact And Insurance Information Of The Other Driver
You will need the other driver's contact and insurance information to file your claim. Take a picture of their insurance card, driver's license and license plate for your records. Also, write down their name, phone number and address.
Talk To Witnesses
Eyewitness testimonies may be valuable evidence if the insurance company or at-fault driver disputes your claim. Ask witnesses what they saw and write it down. Also, record their names, phone numbers and email addresses.
Visit Your Doctor
If you were injured in a motorcycle accident, it's important that you visit your doctor for an evaluation. Medical records will help your motorcycle accident attorney tie your injuries to the collision and prove the value of your damages.
Consult A South Florida Motorcycle Accident Lawyer
Recovering fair compensation after a motorcycle crash often involves an uphill legal battle. The insurance company will look for any possible excuse to dispute or reject your claim. The motorcycle accident lawyers at Englander Peebles know the tactics that insurance companies use to minimize payouts. We can help you avoid crucial mistakes like making a recorded statement to the insurance adjuster without proper preparation, accepting a settlement too early or overlooking future damages.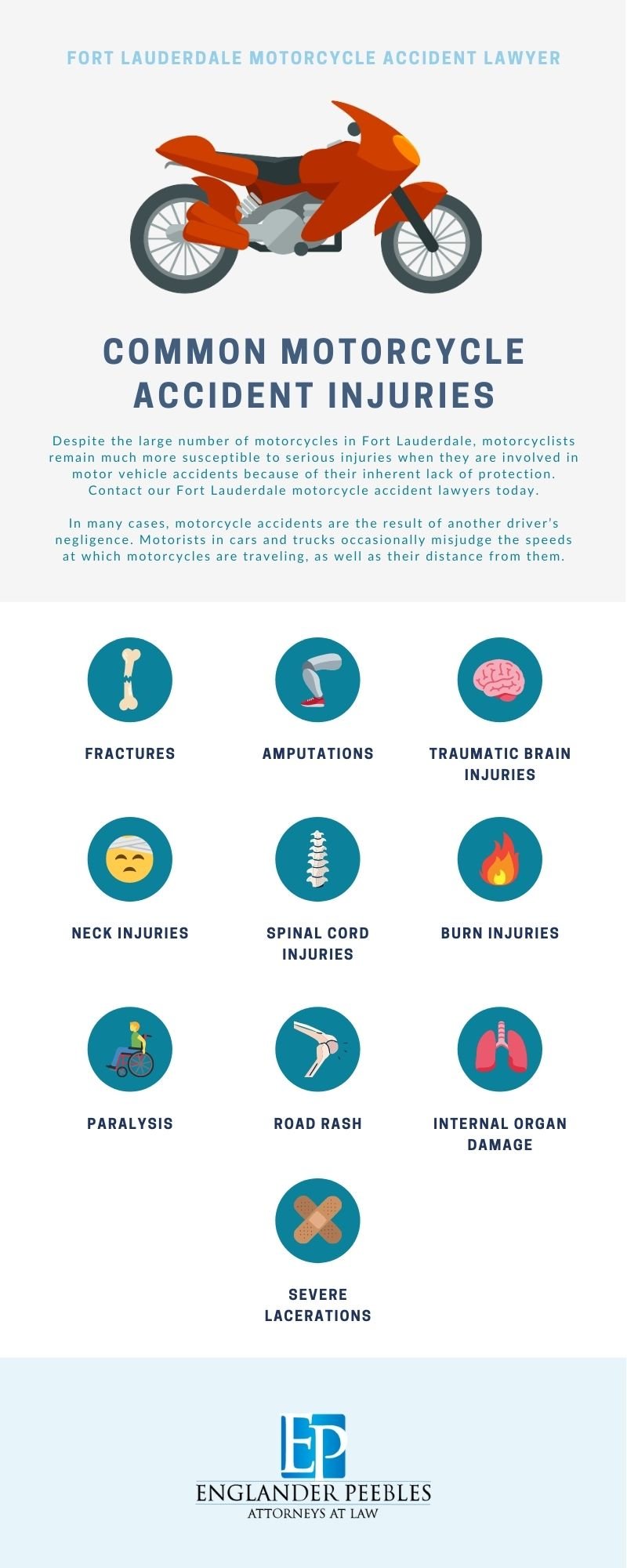 How Can A Fort Lauderdale Motorcycle Accident Lawyer Help After A Crash?
The immediate aftermath of a Fort Lauderdale motorcycle accident can be an extremely confusing and stressful time for not only for victims but their family members as well. Some victims face months, years or even lifetimes of rehabilitation. Many injured motorcyclists face lengthy time off work, and some may never be able to fully recover from their injuries.
Our attorneys at Englander Peebles fight for motorcycle accident victims in Fort Lauderdale, Plantation and across South Florida. Our firm can conduct a thorough investigation of your crash to preserve valuable evidence and prove that another party was at fault.
At this stressful time, don't attempt to take on the insurance companies by yourself. Let Englander Peebles build your claim and negotiate with insurers from a position of strength on your behalf. We can handle the legal matters while you focus on your health and putting your life back together after a motorcycle accident.
What Compensation Is Available After A Motorcycle Crash In Fort Lauderdale?
Motorcyclists who are injured in crashes that were someone else's fault may be awarded various kinds of compensatory damages. The term "compensatory damages" includes economic damages as well as noneconomic damages.
Common economic damages include medical bills, lost wages and property damage (usually to a motorcycle). Noneconomic damages, on the other hand, are awards for harm such as pain and suffering, disfigurement and loss of enjoyment of life.
In most cases, a negligent driver's insurance policy has certain limits on the damages that can be paid. Victims may still have other options for pursuing additional compensation when the negligent driver does not have sufficient insurance limits or is uninsured.
Additionally, victims in a limited number of cases could also be entitled to punitive damages. Punitive damages are fairly rare, but they are more common in certain kinds of accidents caused by a driver's deliberate actions or egregious negligence.
A punitive damage award is not intended to be additional compensation for the victim so much as it is designed to punish the defendant for unacceptable conduct and discourage others from acting similarly. Florida Statute § 768.73 limits punitive damages at three times the amount of the compensatory damages or $500,000, whichever is greater.
Motorcycle Crashes And Florida's Comparative Negligence Law
Florida is one of only 12 states that uses a pure comparative fault system when awarding damages. Under this system, a person is allowed to pursue a legal claim to pursue damages for injuries caused even when their own negligence contributed to causing the crash.
Florida's system allows victims to recover compensation even when they were more than 50% at fault for accidents. Many other states prohibit awards to parties determined to bear more than half the fault. The victim's share of fault for the collision, however, will proportionately reduce their final award. In other words, a victim who is awarded $10,000 but found to be 50% at fault would thus have their award cut in half and ultimately receive $5,000.
The concept of comparative negligence is extremely important for motorcycle accident victims to understand. Often, insurance companies for other drivers will try to get the victims to unknowingly make damaging statements during recorded conversations that are later used to argue that the motorcyclist's negligence was the primary cause of the crash.
Representatives of insurers will often seem friendly and genuinely concerned about a victim's well-being. To some people, proposed settlements can often sound very sizable. In truth, such settlement offers rarely account for the full lifetime of care victims will require, not to mention lost income.
It is not uncommon for an insurance company to argue that a motorcyclist was entirely at fault for their injuries. In many cases, insurers will try to find any evidence possible indicating that a motorcyclist was operating in an unsafe manner. Unscrupulous insurance companies prey on anti-motorcyclist stereotypes and prejudices to shift the blame. We won't let them get away with that.
The attorneys at Englander Peebles are prepared to stand up for your rights during negotiations and other interactions with the insurance companies. We are prepared to pursue a lawsuit if the insurance company is unwilling to provide you with adequate compensation.
How Long Do You Have To File An Accident Claim In Florida?
Florida Statute § 95.11(3) places a four-year time limit (known as a statute of limitations) on legal actions founded on negligence. This includes motorcycle accident claims. The deadlines are strictly enforced with only very narrow exceptions.
For this reason, it is important for any motorcycle crash victim to seek legal representation as soon as possible. You should not wait to see how serious your injuries become before contacting an experienced attorney.
Courts will refuse to hear cases filed after the statute of limitations has expired. Victims in such cases are then powerless to hold negligent parties legally accountable. We will not only negotiate with an insurance company to pursue all the compensation you are entitled to but also file a lawsuit if the insurer is unwilling to agree to an adequate settlement before the statute of limitations expires.
What Are Common Causes Of Motorcycle Accidents?
Some of the kinds of motorcycle accidents cases that Englander Peebles most frequently handles include:
Left-Turn Accidents
One of the most common kinds of motorcycle crashes involves drivers of cars turning left in front of motorcycles. Whether this occurs because of motorist impatience, a misjudgment about an oncoming motorcycle's speed or some other reason, motorcyclists are powerless to avoid collisions in these cases. Not only can the immediate impact cause serious injuries, but motorcyclists are also frequently thrown many feet from their bikes. As a result, additional injuries can be sustained when a motorcyclist strikes or lands on certain objects.
Head-On Collisions
Motorcycle crashes are often fatal when a motorcyclist is involved in a head-to-head crash with another motor vehicle. A head-on accident involves a collision between the front ends of both vehicles. The motorcyclist is not afforded the same level of protection as the occupants of a car, and a motorcyclist can be thrown from the bike.
Lane Change Accidents
The practice of lane splitting refers to riding a motorcycle between lanes of slowed or stopped traffic. While motorcycles are able to squeeze into these narrow margins between vehicles, motorcyclists can often be injured when an inattentive driver suddenly changes lanes while the motorcyclist is splitting lanes. Even when a motorcyclist is not engaged in lane splitting, drivers of passenger vehicles also cause accidents when they fail to fully check blind spots for motorcycles while changing lanes. Such accidents typically occur when both vehicles are traveling in the same direction, and motorcycles may become crushed underneath the car in such cases.
Dooring Accidents
"Dooring" refers to occupants of cars swinging open the doors in front of an oncoming motorcycle, often on busy streets in more urban areas. When this happens, the motorcyclist is unable to avoid colliding with the door. While this type of accident is more commonly associated with bicyclists, motorcyclists can also be victims because they are often traveling at much faster speeds than bicycles. The injuries that a motorcyclist may suffer can be more severe not only because of the nature of the immediate impact but also because motorcyclists can be thrown from the bikes.
Rear-End Collisions
When a car or truck strikes a motorcyclist from behind, the possible damage is often much more serious. Even at low speeds, the impact can frequently throw a motorcyclist from the bike. In some cases, rear-end accidents at higher speeds can end up with a motorcyclist effectively being run over. These types of accidents are almost always the results of some kind of driver negligence, such as distracted driving, speeding or simple failures to stop.
Drunk Driving Accidents
Florida prohibits people from driving under the influence (DUI) of alcohol or drugs. Offenders are much more likely to cause traffic accidents. Whether a person committed drunk driving or drugged driving, their altered perception makes it difficult to accurately gauge the speeds and distances of motorcycles.
As a result, impaired drivers frequently cause devastating accidents through such acts of negligence as improper turns, failure to obey traffic signs or signals, or tailgating. If the negligent driver is convicted of DUI, the conviction can be used as evidence in the civil case. It is important to understand, however, that even if the driver is acquitted of the criminal charges, they could still be held liable in the civil case filed by the injured motorcyclist.
Intersection Accidents
Many motorcycle crashes occur in the middle of busy intersections. Such collisions may be the results of drivers not stopping for red lights, speeding or the driver being intoxicated. Accidents at intersections may be side-impact, head-on or rear-end collisions.
Dangerous Road Conditions
Not all motorcycle accidents involve other vehicles. Some crashes can be the result of certain issues a motorcyclist faced on the road, such as slick surfaces, debris in a roadway or uneven pavement. When a road is unreasonably dangerous, it may be possible to file a claim against the local, state or federal government agency that was tasked with maintaining the road.
Defective Parts
Some accidents are caused by an issue with the motorcycle itself. In some cases, a crash may be the result of a defective part or an unsafe design. In such cases, the manufacturer could be liable for a victim's injuries. In other cases, improper repairs may cause motorcycle crashes. In those scenarios, the repair company may be named as a defendant.
What Are Common Types Of Injuries Experienced From Motorcycle Accidents?
Motorcyclists rarely walk away from accident scenes unscathed. In many situations, they are unable to walk away at all. The nature of the injuries that motorcyclists can suffer is often severe, and some victims may be permanently unable to return to their jobs. Some may be unable to work in any capacity ever again.
Frequent kinds of serious injuries that motorcycle accident victims can suffer include:
Traumatic brain injuries (TBIs)
Paralysis
Burn injuries
Internal organ damage
Fractures (broken bones)
Severe lacerations
Road rash
Our Fort Lauderdale Accident Law Firm Can Help You Today
If you were seriously injured or your loved one was killed in a motorcycle crash in South Florida, it is in your best interests to quickly retain a motorcycle accident lawyer. The Fort Lauderdale motorcycle attorneys of Englander Peebles represent clients in Fort Lauderdale, Plantation and many other surrounding areas of South Florida.
Call us now at 954-500-4878 or fill out an online contact form to schedule a free consultation that will allow our lawyers to provide a complete evaluation of your case. If you need directions to our Fort Lauderdale office, click the map below.