Motorcycle Lane Change Accidents
There's nothing like the freedom of cruising down Florida highways on two wheels, but that thrill comes with inherent risks. Even the most responsible riders cannot control the actions of other drivers.
If you were injured in a motorcycle accident because a driver made an unsafe lane change, you may be entitled to compensation. An attorney from Englander Peebles can evaluate your case and work with you to obtain compensation for your injuries. We represent clients injured in motorcycle lane change accidents in Fort Lauderdale and throughout Florida.
Call 954-500-4878 to schedule a free initial consultation or contact us via our online form. If you are unable to come to our office, we can arrange to meet with you at your home.
What Damages Might Be Recoverable After A Motorcycle Lane Change Accident?
Under Florida law, there are two categories of damages recoverable in personal injury cases: compensatory damages and punitive damages. Compensatory damages pay for economic losses, such as medical bills, vehicle repairs and lost wages, as well as noneconomic losses, like emotional distress and pain and suffering.
Punitive damages are only recoverable in cases when a defendant acted with gross negligence or intentional misconduct. For example, if the driver was drunk or texting when the collision occurred, punitive damages may be recoverable since these behaviors would certainly constitute gross negligence and intentional misconduct.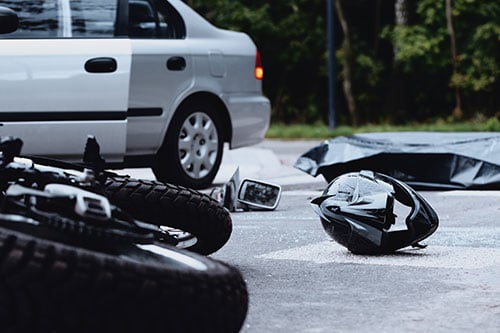 What Evidence Will Be Used To Support My Claim?
The answer to this question really depends on the circumstances of your collision. In most cases, the following evidence may be used to support a motorcycle accident claim:
The police report
Medical bills and other medical documentation
Pay stubs and income tax returns
Receipts from mechanics
Eyewitness testimony
Video surveillance
Medical expert testimony
Financial expert testimony
Depending on the facts of your case, there may be other evidence available to prove negligence and the value of your damages. For instance, if the driver who caused the collision was under the influence of alcohol or drugs, your South Florida injury lawyer may use the toxicology report to prove negligence and claim punitive damages. If you were injured by a commercial truck that made an unsafe lane change, your motorcycle accident lawyer may use data from the vehicle's event data recorder (EDR), or black box, to support your claim.
Learn What We Can Do For You In Your Case
In the aftermath of a serious motorcycle collision, it can seem impossible to focus on legal and financial concerns. But your statements and actions immediately following a major accident may have a serious impact on the success of your personal injury claim. It is important to obtain advice from an experienced attorney who can guide you step by step through the claims process.
At Englander Peebles, we know the tactics that insurance companies use to deny and undervalue claims, and we can help you avoid crucial mistakes that would harm your case. Call us today at 954-500-4878 to arrange a free initial consultation. You can also leave your contact information and a brief description of your case in our online form.