A Truck Tire Blowout Could Lead To Catastrophic Results
Were you or a loved one seriously injured in a tire blowout accident involving a commercial truck? You may be entitled to compensation for medical bills, lost wages, vehicle repairs and noneconomic damages. The tire blowout accident lawyers at Englander Peebles in Fort Lauderdale can evaluate your case in a free consultation to determine if you have grounds for a claim.
We have the knowledge, resources and courtroom experience to go up against even the largest insurers and trucking companies. We are passionate about helping the injured pursue justice and the compensation they need to move on with life. Call us today at 954-500-4878 or share your contact information via our online form for a free case evaluation.
Who Can Be Held Liable For A Tire Blowout Semi-Truck Accident?
Big-rig tire failure can result in catastrophic accidents and serious injuries to innocent law-abiding drivers. These collisions are unfortunately far more common than they should be. According to the most recent data from the Federal Motor Carrier Safety Administration, tire issues contribute to 6% of all semi-truck accidents, and 66% of people who died in large truck crashes in 2016 were passenger-vehicle occupants.
All drivers are required by law to exercise reasonable care. This includes not only obeying traffic laws but also keeping their vehicles (and tires) in a safe condition; however, that does not necessarily mean truck drivers are always liable for tire blowout accidents.
For example, liability against the trucker may be reduced if an external factor, such as a pothole or debris in the road, caused the blowout. In this scenario, it is important to evaluate the actions the truck driver took during and after the blowout, as this may affect their liability.
It is also possible for tire manufacturers to be held liable if a defect in the tire's design caused the blowout. A mechanic or the party who installed the tire also may also be liable if they did not notice the defect or if they failed to install the tire properly.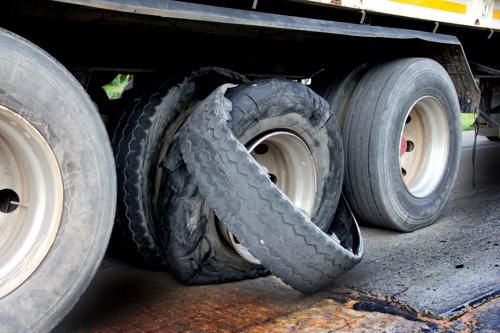 How To Prove A Tire Blowout Caused Your Accident
For your personal injury claim to be successful, evidence must be shown to prove the cause of the blowout. Our truck accident lawyers at Englander Peebles can conduct a thorough investigation into your collision and gather the evidence needed to prove liability. This evidence may include:
Photos of the tire that blew out
Photos that show the positions of the vehicles, skid marks, the intersection and weather conditions
Eyewitness testimony
Testimony from an accident reconstruction expert
Timelines and illustrations
Data from the truck's black box
Surveillance footage of the crash
The police report
Common Causes Of Tire Blowout Truck Accidents In South Florida
Tire blowout accidents can occur due to many different factors. Common causes of tire blowout truck accidents include:
Underinflation
Overinflation
Potholes in the road
Heat
General wear and tear
Overloading
Call Our Lawyers Today
If you or someone you love was seriously hurt in a truck wreck, contact Englander Peebles today to discuss your options for recovering compensation. Call 954-500-4878 to schedule a free consultation, or fill out this secure online form to have us contact you.