Driver Fatigue Is More Serious Than You Think
To prevent fatigue-related accidents, commercial truck drivers are required by law to limit the number of hours they spend behind the wheel. If a trucker violates the hours of service regulations and causes a wreck, victims may file a personal injury claim to pursue compensation for any damages they incur. Our Fort Lauderdale fatigued driving accident lawyers at Englander Peebles are experienced in the laws that govern truck accident claims in South Florida, and they can evaluate your case in a free consultation to help you determine the most strategic way to proceed.
If you intend to file a claim, it is important that you contact our office as soon as possible because, over time, important evidence may become unavailable. We can gather the evidence needed to prove negligence, including black box data and the trucker's Hours of Service (HOS) log.
We can also arrange testimony from an accident reconstruction expert and a medical expert witness, if necessary. Call us today at 954-500-4878 or fill out our online form to schedule a free case evaluation.
What Is Considered A Violation Of The Hours Of Service Regulations?
There are many rules that apply regarding the number of hours a driver may work in a seven-day period. Unfortunately, these regulations may be violated by drivers who fall behind schedule or who simply want to make extra money despite the risk that their reckless behavior poses to other drivers and pedestrians.
Proving Negligence After A Fatigue-Related Truck Accident
To win your case, it must be shown that the negligence of the truck driver or another party caused or contributed to your accident. Unfortunately, truck drivers who violate the HOS regulations rarely fess up to their wrongdoing, so it's important that you enlist the help of a truck accident lawyer who can gather the evidence needed to prove negligence.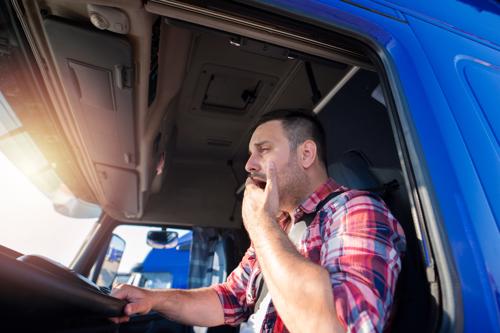 The injury attorneys at Englander Peebles will get to work immediately and conduct a thorough investigation into your accident to gather all available evidence to support your claim, which may include:
The truck driver's HOS log
The truck's black box data
Photos of the crash scene
Surveillance video of the collision
Eyewitness testimony
Testimony from an accident reconstruction expert
Illustrations and timelines
The police report
A trucker may alter their HOS log after causing a drowsy driving accident or may purposely record inaccurate information in their log. To prove this, our attorneys can gather data from the truck's black box, which may show that the vehicle was moving during the hours when the driver claims to have been resting.
Contact A Broward County Truck Accident Attorney Today
The injury lawyers at Englander Peebles can guide you through every stage of the claims process and help you pursue the compensation to which you are entitled. Schedule a free consultation today at their Fort Lauderdale office by calling 954-500-4878 or using this online contact form.