Legal Advice When Your Life Changes Radically After A Catastrophic Injury
The loss of a limb is a tragic event that can affect a person's relationships, career and enjoyment in life. If your limb was amputated due to medical malpractice, a worksite injury or a car accident, you may be entitled to compensation.
The lawyers at Englander Peebles in Fort Lauderdale will help you identify all potentially liable parties, gather evidence and fight for the compensation you need to move on with life. Call us today at 954-500-4878 to set up a free consultation. You can also use our online contact form.
My Limb Was Amputated – Do I Have Grounds For A Claim?
The answer to this question depends on the reason why your limb was amputated. Although there are countless ways to lose a limb, preventable amputations are often related to worksite injuries, medical malpractice and motor vehicle accidents.
Amputations Due To Worksite Injuries
Construction workers are more likely to suffer amputations than those in other professions. Worksites are often peppered with heavy machinery and cutting tools, and one oversight could be all it takes to lose a limb. The Fort Lauderdale loss of limb attorneys at Englander Peebles will evaluate your case for free, investigate its cause and determine if you have grounds for a personal injury claim.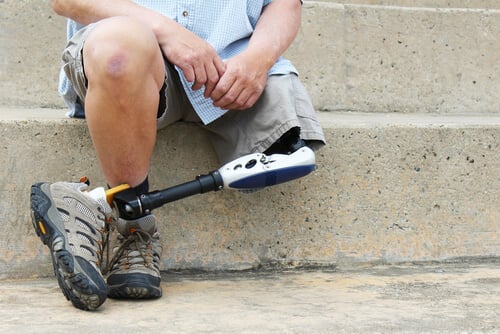 Amputations Due To Medical Malpractice
Despite recent advancements in patient care, medical malpractice is still alarmingly common in the United States. One of the most traumatic mistakes made in hospitals is performing an operation on the wrong patient or body part. If you have suffered a catastrophic injury due to a medical provider's negligence, you may have grounds for a medical malpractice claim.
Amputations Due To Car Or Motorcycle Accidents
Motorcycle accidents are more likely to cause a loss of limb than those involving passenger vehicles since there is little protecting the rider from impact. If a limb is severely injured in a collision, amputation may be necessary to save the patient's life.
If you lost a limb after a car accident, the personal injury attorneys at Englander Peebles can help you identify all options for recovering compensation, which may include filing a claim against your own insurance company and/or a lawsuit against the at-fault driver.
Contact Our Fort Lauderdale Lawyers
The personal injury lawyers at Englander Peebles are proud to help the injured recover the compensation they need to move on with life. Call us today at 954-500-4878 or contact us via our online form to arrange a free consultation.