If Your Slip-And-Fall Injury Occurred At Wawa
If you or a loved one was seriously injured in a slip-and-fall accident at a Wawa convenience store in Florida, you should consult with an experienced personal injury attorney as soon as possible. After a thorough examination of the facts surrounding your slip-and-fall accident, a personal injury lawyer can help you determine if you have a claim against the store.
The experienced attorneys at Englander Peebles are here to help. We will fight for all compensation that you are entitled to receive. We won't let a corporation or its insurance company bully you around or force you to accept a settlement that fails to compensate you fully and fairly for the harm that you have suffered.
To learn more about how our lawyers can help you, call 954-500-4878 or reach us online today. We can provide a free consultation at our office in Fort Lauderdale or Miami, or we can meet with you at your home or the hospital, whichever is most convenient for you.
Why Do Slip-And-Fall Accidents Occur At Wawa?
Many potential hazards could cause a serious injury at a Wawa store if the store has neglected its duty to keep the premises in a safe condition. Examples of hazardous situations that you may encounter at a convenience store include:
Wet or newly waxed floors in an area without a caution sign
Food or other goods on the floor
Greasy, oily surfaces that store employees fail to clean up
Excess rainwater accumulating at the entrance to the store
No warning signs to tell customers about the ongoing construction of the building.
If you slip and fall as a result of one of the above scenarios – or due to a situation not listed – and you are seriously injured, you may have grounds to bring a premises liability claim against the store.
Who Can Be Held Liable For A Trip-And-Fall In Wawa?
The Wawa store owner can be held liable for your slip-and-fall accident. If the owner leases the property, you may have a claim against the tenant as well as the property owner. Under Florida premises liability law, property owners must maintain their property in a manner that makes it relatively safe for the public. When a property owner fails to fulfill this duty and someone gets injured, the owner can and should be held liable for damages.
At Englander Peebles, we can thoroughly investigate your case and identify all parties who should be held responsible for your slip-and-fall injuries.
What Must You Prove In A Premises Liability Claim?
To successfully sue a store like Wawa for your slip-and-fall accident, you must prove that the accident occurred on store property, that the store was negligent and that the store's negligence caused your injury. Under Florida law, the burden is on you to prove that the store knew or should have known about the hazard and failed to take appropriate actions to remedy or warn about it.
If your slip-and-fall case makes it to court (and even during settlement negotiations), the store may try to use Florida's comparative negligence rule to pay as little as possible to resolve your case.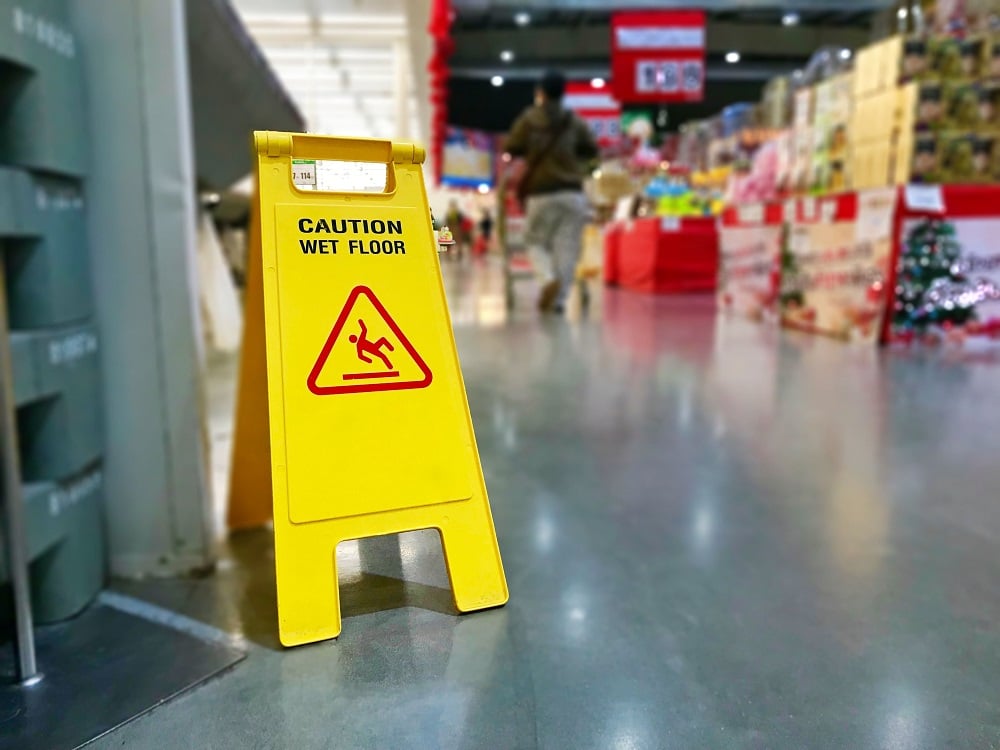 Under the comparative negligence rule, any damages awarded to you would be reduced according to the percentage of your fault for the accident. For example, if you were 25% to blame for your slip-and-fall accident and your damages total $100,000, your damages would be reduced by 25% to $75,000.
At Englander Peebles, we know how corporations and insurance companies operate. We won't let you be victimized a second time by them. We will aggressively challenge any attempts to shift blame for your slip-and-fall accident to you, and we will fight for the compensation you deserve.
What Are The Most Common Slip-And-Fall Injuries?
Slip-and-falls at stores can cause a wide range of injuries. The nature and severity of these injuries depend on how a person falls and lands. Common slip-and-fall injuries at convenience stores include:
Head and brain injuries
Spinal cord damage
Neck injuries
Broken bones
Cuts and bruises
Knee damage
Sprained wrists or ankles
If you have suffered a slip-and-fall accident at a store, you should seek medical attention immediately. Your doctor can document the specifics of your injury as well as your treatment and rehabilitation plan. This information can be used as evidence in your personal injury case and can help support the extent of your injuries.
Damages Available In A Florida Slip-And-Fall Case
If you suffered a slip-and-fall at a convenience store in Florida, you may be entitled to recover compensatory damages if the store's negligence caused your injuries. Damages are typically a combination of economic and noneconomic damages. Economic damages are losses that have specific dollar amounts attached, such as medical bills, lost wages and rehabilitation costs, while noneconomic damages include pain and suffering, loss of enjoyment of life and emotional anguish.
Depending on the circumstances of your case, you may also be eligible to recover punitive damages. To qualify for these damages, you must prove that the store acted with deliberate intent or willful or wanton misconduct.
Our Lawyers Are Ready To Help You
If you or a loved one has suffered injuries in a slip-and-fall at a Wawa convenience store in Florida, you should contact Englander Peebles right away. We will get to work on your case immediately. We will investigate exactly what happened to you at the store, calculate your damages and demand compensation from all liable parties. We are ready to take your case to trial if the settlement that the store offers is for less than what you deserve. To get started, contact us for a free, no-obligation consultation at 954-500-4878 or via our online contact form.