Florida Hurricane Damage Lawyers
According to the Office for Coastal Management, there were 60 weather or climate disasters in the U.S. from 2020 to 2020 that cost more than $1 billion in damage each. With its long coastline and location, many of these incidents happened in Florida. Florida is extremely susceptible to hurricanes. If your property suffered hurricane damage, you can contact us at Englander Peebles. Our hurricane damage claim attorneys can help you get compensated for the damages.
Do Insurance Companies Pay For Hurricane Damage In Florida?
Whether the hurricane damage to your property is covered by insurance depends on several factors, including the type of insurance coverage. Most homeowners' insurance policies cover damages caused by hurricane winds but you must consider the specific terms and conditions of your homeowners' insurance policy to determine what damages are covered. If you are forced to evacuate, the insurance policy may not cover expenses related to additional living arrangements.
In some cases, you need separate flood insurance coverage to provide compensation for any damages caused by flooding. You also have to consider that you need to pay the deductible before the insurance policy starts to cover damages. Another important thing to consider is the coverage limits. In cases of severe hurricane damage, the insurance policy may not cover the full extent of the hurricane damage. Consider getting additional insurance, such as flood insurance, for added coverage.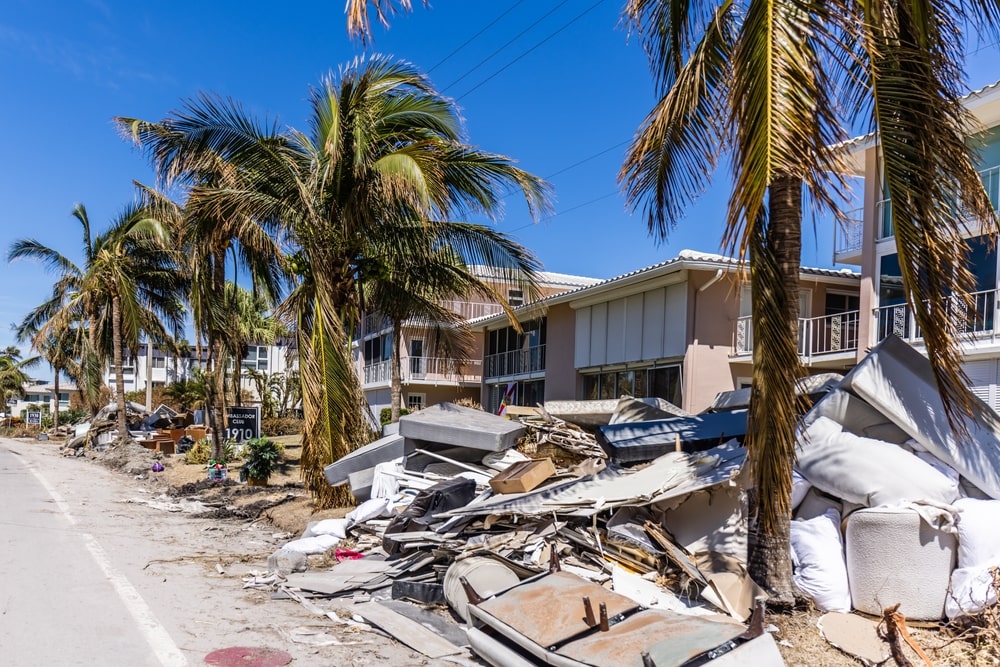 Common Types of Hurricane Damage
The immense force and unpredictable nature of a hurricane make it highly dangerous. When hurricanes are expected to arrive, many people are forced to evacuate their homes to seek safety. However, when they return, they can be devastated by the extent of the damage caused by the hurricane. Here are some of the most common types of hurricane damage:
Structural damage to property such as the walls and porches.
Damaged caused by projectiles
Fire damage from downed wires
Damage to cars, boats, and other vehicles
Broken windows
Flooding
Damage to roof shingles and gutters
Moisture damage
Hurricane conditions can include torrential rain, storm surge, and high winds that can damage every part of your home or business property. The damages caused by hurricanes in Florida can require expensive repairs. In some cases, repairs might not be enough, replacement might be needed.
The Hurricane Insurance Claims Process
For your hurricane insurance claims to be successful, you need time to prepare and compile all required documents. You should submit a detailed list of damages and include photos of the damages. Not properly documenting the damage is one of the most common reasons why hurricane claims are denied. If you get repairs or replacements, you need to ensure you include all items in a detailed report.
The hurricane claim process is initiated by filing a claim with the insurance company. You can notify the insurance company of the damages over a phone call using your insurance policy number. Generally, the insurance company will assign an adjuster to evaluate the damage to your property. They will visit your property to inspect the damages and ask questions regarding the pre-existing condition of the property. In most cases, the insurance company will require you to submit a proof of loss statement that documents everything that was damaged in the hurricane.
If the insurance claim is approved, the insurance company will offer you a settlement. If the insurance claim is denied, you will be notified. Generally, the insurance companies send a written denial letter outlining the reason for the denial. In some cases, the reasons provided by the insurance company can be technical or vague, making it difficult for regular policyholders to understand them. It is best to consult an attorney to review the denial letter and guide you on your best legal options. In some cases, you will have the option to appeal against the hurricane damage claims denial.
How Long Does An Insurance Company Have To Settle A Hurricane Claim In Florida?
Insurance companies are bound by Florida law to respond to your insurance claim within 14 days of submission. In addition, they must fully pay, partially, pay, or deny the claim within 90 days. If the insurance company fails to comply with these deadlines, they have violated your rights as a property owner in Florida. You can pursue legal action against the insurance provider.
Generally, insurance companies are in no hurry to settle a claim. They might delay the claims process as long as possible. They will also try to minimize their financial exposure and use different tactics to deny the claim. For example, they can cite pre-existing damages to your property to avoid payment. They can also try to undervalue your claim to reduce their payout. In some cases, insurance companies ask for unnecessary documentation to extend the claims process and frustrate the claimant in accepting an unreasonably low settlement offer. You can protect yourself from these tactics by hiring a skilled and experienced hurricane claims attorney.
What Is The Statute Of Limitations On Hurricane Claims In Florida?
You have two years from the date of the hurricane damage to file a claim for damages suffered in a Florida hurricane. However, insurance policies and regulations can change over time, so it is best to get up-to-date information from your insurance company. It is also advisable to consult with a Florida hurricane claim attorney on the statute of limitations for hurricane claims.
Schedule a Free Consultation with Our Hurricane Claims Attorney
Without the assistance of a hurricane claims attorney, you might not be able to determine whether the damages will be covered by your insurance policy. Even if the hurricane damage is covered under the policy limits, you might struggle to complete the insurance claims process and handle the negotiations with the insurance company. You can get in touch with us at Englander Peebles. Our hurricane damage attorneys are experienced in the Florida hurricane claims process and we have helped our clients hold insurance companies accountable. Allow us to get you full and fair compensation for their suffering. Our Fort Lauderdale location allows us to serve local clients throughout South Florida.