Pompano Beach Motorcycle Accident Lawyers
When motorcycle accidents happen, they often leave behind more severe injuries than a car accident. Many times, motorcycle accident victims endure life-threatening injuries.
Motorcycle accidents can take a physical, emotional, and financial toll on you. They may be a riskier mode of transportation but you don't deserve to take the blame when a negligent driver causes you to crash.
The motorcycle accident lawyers at Englander Peebles know how frightening it is for you and your family in the aftermath. Our law firm is committed to providing compassionate representation to help you explore your legal options and recover compensation. Contact our Florida motorcycle accident lawyers to get a free initial consultation and discuss your motorcycle accident case.
What to Do If You Are Injured in a Motorcycle Accident in South Florida
If you are involved in a motorcycle crash, you should follow the same steps as you would in other accidents with motor vehicles. It's imperative that you seek immediate medical care and follow everything that the medical professionals advise for your treatment.
Never attempt to shake off injuries sustained in a crash. Neck injuries and brain injuries need prompt treatment or they could become fatal. Calling the police to report motorcycle accidents is also important to create a police report that can be helpful in your motorcycle accident claim.
Additionally, you should try to gather evidence through photos and videos of the motorcycle accident scene and get contact information from any witnesses. You'll also have to report your motorcycle accident to your insurance company.
However, one of the most important things you should do after a motorcycle crash is contact the Florida motorcycle accident lawyers at Englander Peebles. This step is especially important if you have suffered catastrophic injuries as we can immediately get to work gathering evidence on your behalf and negotiating with the insurance company to recover fair compensation.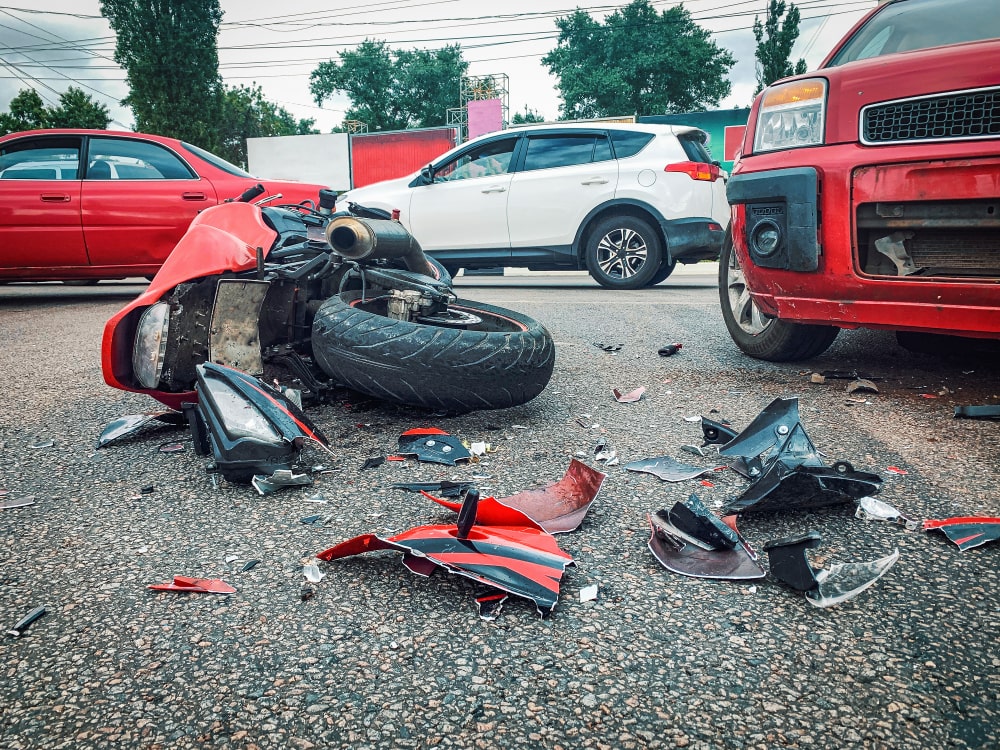 Who Could Be Liable for Motorcycle Accidents in South Florida?
Before a motorcycle accident lawsuit can be filed, the details of your motorcycle crash need to be reviewed to determine the at-fault party. In order to have a successful motorcycle accident case, you need to prove negligence.
This may be hard to do on your own without a Florida motorcycle accident attorney. The reason that Florida motorcycle accident attorneys are essential is that insurance companies tend to blame injured motorcyclists in these situations. With serious injuries, you don't need to add more stress after a motorcycle crash. Our motorcycle accident lawyers will advocate for your legal rights and seek compensation from the at-fault party.
Often in motorcycle accident cases, there is more than one negligent party. A motorcycle accident lawyer can help identify all possible avenues for recovery of compensation in your motorcycle crash.
Car Drivers
A motorcycle accident attorney can help determine if the driver of the car was at fault. Distracted driving, speeding, failing to obey Florida traffic laws, and driving while intoxicated are just a few examples of negligent driving.
Business Entity
In some motorcycle accident claims, the driver may be operating within the scope of their employment at the time of the motorcycle accident. A motorcycle accident lawyer would then pursue compensation from the insurance carrier of the company the driver works for.
Local Florida Government
If the roads were not properly maintained, it may be the local government's fault for your motorcycle crash. A Florida motorcycle accident lawyer will know how to file motorcycle accident claims in this situation.
Defective Motorcycle Parts
Defective motorcycle parts have played a role in many motorcycle accidents. Your motorcycle may not have been built properly, resulting in a malfunction. This would mean the motorcycle manufacturer is at fault.
The most common issues are with the pedals getting stuck. Safety alerts may also malfunction, leading to motorcycle accidents. Issues with the engine, transmission, tires, or even cracks in the frame are other potential problems in a defective motorcycle.
What Compensation Can You Recover for Motorcycle Accident Injuries?
Motorcycle accident injuries are usually quite serious. Since motorcycle riders are more exposed to the road, their medical bills will be extensive. Medical expenses can also include your future medical care as many people injured in a motorcycle crash will have permanent and lifelong injuries after the accident.
A Florida motorcycle accident lawyer can help you recover medical expenses, future medical expenses, lost wages, pain and suffering, and other types of damages. Surviving family members who lose loved ones in motorcycle crashes can file a wrongful death claim.
Since motorcycle accidents can be such complex cases, it is advised that you work with a motorcycle accident attorney. They will advocate for you and work to get you a fair settlement since the insurance company might try to blame you for your personal injury.
Why You Need a Motorcycle Accident Attorney in South Florida
According to Florida law, you need to file your motorcycle accident claim before the statute of limitations runs out. In this state, you get two years to pursue compensation from the date of your motorcycle crash.
The motorcycle injury attorneys at our law firm are devoted to representing motorcycle riders fairly in the aftermath of motorcycle crashes. If you or a family member were hurt in a motorcycle accident, we want to help you recover damages. The injury attorneys at Englander Peebles are ready to fight for your personal injury claim. Contact our law firm today to discuss your motorcycle accident during a free initial consultation.