Although motorcycle safety equipment has advanced over recent years, riders are still likely to suffer serious injuries in the event of an accident. In fact, motorcyclists are 5 times more likely than passenger vehicle occupants to be injured and 27 times more likely to die in collisions. Fortunately, there are countless ways to reduce your risk; one of the most effective is to learn the common causes of motorcycle accidents in South Florida and how to avoid them.
No matter how responsible you are on the saddle, though, all it takes is one drunk, distracted, or negligent driver to cause a tragic wreck. If you were injured or lost a loved one in a motorcycle collision, a South Florida injury attorney from Englander Peebles can evaluate your case for free and help you determine the most strategic way to proceed.
You may be entitled to compensation for lost wages, medical bills, and non-economic damages. Punitive damages may also be recoverable depending on the facts of your case. Call us today at (954) 231-1384 to speak with a motorcycle accident attorney in Fort Lauderdale.
Most Common Causes of Motorcycle Accidents in Florida
The vast majority of motorcycle crashes are entirely avoidable. You can reduce your risk by making a concerted effort to anticipate and avoid these common causes of motorcycle collisions:
Cars Turning Left
Nearly half of all collisions involving motorcycles and other vehicles occur when cars make a left turn. These accidents are especially common at intersections and when riders try to overtake passenger vehicles. Motorcyclists should always approach intersections cautiouslyeven when they have the right of wayand never attempt to overtake a vehicle when approaching an intersection.
Drunk Driving
Impaired driving is a leading cause of accidents for all vehicle types, but statistics show that motorcycles are involved in a disproportionately high number of drunk-driving collisions. In fact, about 30 percent of riders who die in motorcycle collisions have a BAC of 0.08 percent or higher.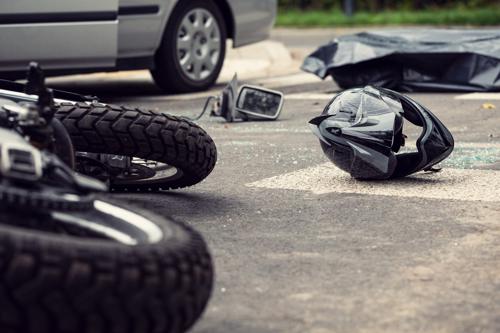 Riding in Other Vehicles Blind Spots
Because motorcycles are smaller than passenger vehicles, it is easy for them to disappear in other vehicle blind spots. Riders should be aware of this fact and make an effort to stay visible.
Lane Splitting
Lane splitting is the act of riding between two lanes, usually to bypass traffic congestion. It goes without saying that this is incredibly risky since other drivers are not expecting the rider to approach at a speed faster than the flow of traffic. It's tempting to skirt through gridlock when you're stopped in the Florida heat, but doing so will increase your risk of crashing.
Dangerous Road Conditions
Due to their two-wheeled structure, motorcycles are less stable than passenger vehicles. Potholes, slippery surfaces, and uneven pavement can be deadly for riders. To reduce your risk, avoid riding in adverse weather, and stick to a familiar route especially when riding at night.
South Florida Motorcycle Accident Lawyers
Riders who avoid dangerous situations are far less likely to get into accidents, but some collisions are simply unavoidable. If you were injured in a crash that another driver caused, contact Englander Peebles to speak with an experienced Broward County motorcycle accident attorney. Call (954) 231-1384 to arrange a free initial consultation.