Confusion, shock, anger, depression are just a few emotions you might feel after a serious motorcycle accident. It may seem impossible to focus, but it is important to remember that your statements and actions at the crash scene may affect the outcome of your personal injury claim. Even if you do everything right at the scene, one small mistake over the weeks that follow could cause the insurance company to dispute or reject your claim. This is where a Fort Lauderdale motorcycle accident attorney from Englander Peebles can help.
We are well-versed in the laws that govern personal injury cases in Florida, and we know the strategies insurance companies use to minimize payouts. We will help you avoid crucial mistakes like accepting a settlement too early, missing important deadlines, or overlooking non-economic damages.
Don't let the insurance company bully you into accepting a low settlement. Call us today at (954) 231-1384 to schedule a free initial consultation with a motorcycle accident lawyer.
The success of your personal injury claim will ultimately hinge on the strength of your evidence, so it is crucial that you gather evidence at the scene if you are physically able to do so. Here are seven steps you should take immediately after a motorcycle crash:
Check Yourself and Other People for Injuries
Every second counts after a motorcycle accident. Your top priority is to ensure you and anyone else who was injured receive prompt medical attention. Call the police and, if necessary, request emergency medical assistance.
Call Law Enforcement
Many drivers think it is only necessary to contact the police if an accident results in serious injuries, death, or significant property damage; however, you should call law enforcement after any collision. The shock and adrenaline of a motorcycle wreck can mask the symptoms of injuries. If there isn't an officer at the scene to create an accident report, it may be difficult to prove negligence if the other driver's account of what happened differs from yours.
Take Pictures
Pictures can be valuable evidence in any personal injury claim. Photos that show the positions of vehicles, skid marks, traffic signs, and weather conditions can tell the story of how the accident happened and may help your Broward County injury lawyer prove negligence. You should also take photos of injuries and property damage, and remember to enable your timestamp function.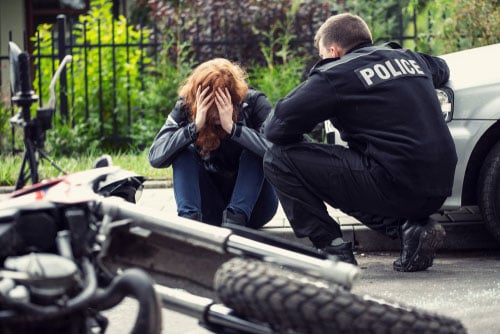 Gather Information from the Other Driver
You will need the other driver's insurance and contact information to start your claim. Take a picture of his or her insurance card and driver's license, and write down his or her full name, address, and phone number.
Gather Witnesses Contact Information
If the insurance company or opposing party disputes liability, your South Florida motorcycle accident lawyer may use witness statements to prove your side of the story. If there are any witnesses at the scene, ask them what they saw and write down their responses. Also, record their names, phone numbers, and email addresses.
Visit Your Doctor
If you put off your medical evaluation after an injury, the insurance company or opposing party may argue that your injuries were caused by something else or that your own negligence contributed to their severity. Even if your injuries do not appear to be serious, you should still visit a doctor immediately after you leave the scene, and be sure to follow all of your doctor's treatment instructions.
Contact an Accident Lawyer
Insurance companies use all sorts of tactics to deny and undervalue claims, after all, the less money they pay out, the higher their profits. An experienced personal injury attorney can handle correspondence with the insurance company on your behalf, so you don't wind up making a misguided statement that harms your case.
The South Florida injury lawyers at Englander Peebles can also help you identify all potentially liable parties and calculate your damages, which (depending on the facts of your case) may include non-economic damages and punitive damages in addition to economic damages like medical bills, vehicle repairs, and lost wages.
Contact a Fort Lauderdale Motorcycle Accident Attorney Today.
If you were injured or lost a loved one in a motorcycle accident, contact Englander Peebles to find out if you have grounds for a claim. Call (954) 231-1384 for a free consultation.