The U.S. Department of Transportation reports that truck driver fatigue is a major cause of the nearly 4,000 fatal large truck crashes each year. Excessive, consecutive hours of work can cause commercial truck drivers to be fatigued. When this occurs, the risk of serious accidents increases exponentially. When large trucks are involved in accidents, serious bodily injuries, including herniated discs, traumatic brain injury, and even fatalities often occur. If you have been injured in a commercial trucking accident in Fort Lauderdale or throughout the state of Florida, you should immediately consult with Englander Peebles, the experienced personal injury attorneys.
Longer Hours Required by Trucking Companies
The Federal Motor Carrier Safety Administration issues regulations that govern how commercial drivers should carry out their duties. Current FMCSA regulations require that commercial drivers should operate a truck or bus no more than eleven consecutive hours after being off duty for a minimum of ten hours. The regulations were passed because the risk of an accident increases substantially when a truck driver is on the road for too many hours.
Commercial trucking is a very competitive industry, and the rising consumer demand for overnight shipments and for fresh produce to be transported from one coast to the other. This causes shippers to feel pressured to move products quickly and to maintain low costs. Most trucking companies operate on very thin margins, and they may exert undue pressure on their employees to drive longer than they should.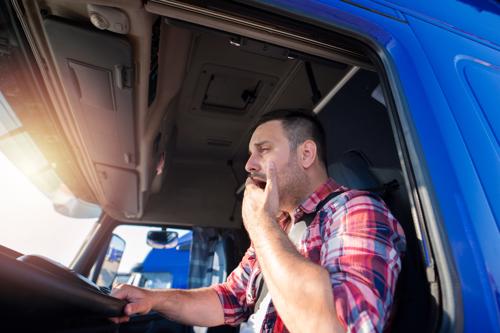 Proposed Rule to Mitigate Truck Driver Fatigue
The Federal Motor Carrier Safety Administration issued a proposed regulation to stop fatigued driving by updating the use of the thirty-four hour rest period, known as the restart. This was intended to allow drivers to rest longer and catch up on missed sleep before working another extended workweek. Once it takes effect, the new rule will reduce the maximum number of hours a driver could work in a week.
According to the United States Department of Transportation, drivers that work long hours have slower reaction times. Furthermore, after driving for many hours, truck drivers, like other types of drivers, may be unable to assess their own fatigue levels properly and fail to account for their performance.
Commercial trucking companies are responsible for providing drivers with tools necessary to perform well, which includes prohibiting fatigued driving. If a trucking accident occurs due to driver fatigue, truck drivers, and the trucking companies that employ them, should be held liable for their negligent actions.
Contact the South Florida Truck Accident Lawyers at Englander Peebles Today!
If you or a loved one has suffered serious injuries due to a commercial trucking or big rig accident in Fort Lauderdale or throughout the state of Florida, you should contact Englander Peebles to help you obtain the compensation you need and deserve for your injuries. Englander Peebles has extensive experience in handling personal injury accidents and can be your advocate in holding a responsible driver and his or her employer liable for its negligent (in)actions. Contact Englander Peebles today for a free initial consultation by calling (954) 231-1384 or by submitting our online form.