Memory loss, persistent headaches, physical disabilities – the effects of a traumatic brain injury (TBI) are felt not only by the victims who suffer the injury but also by their families. Beyond the cost of medical treatment and lost income, it can seem impossible to cope with the psychological impact of a TBI. If you or someone you love sustained a brain injury in a car wreck, slip and fall, or another accident due to someone else's negligence, the Fort Lauderdale personal injury attorneys at Englander Peebles can help you pursue the compensation to which you are entitled.
Although no amount of money can undo the hardship of a TBI, filing a successful claim may help you regain your financial footing and possibly save others from similar injuries. Our traumatic brain injury lawyers will handle your case with the utmost compassion and tenacity. Call us today at (954) 231-1384 to schedule a free initial consultation.
5 Most Common Causes of Traumatic Brain Injuries
Traumatic brain injuries usually occur due to a violent blow or jolt to the body or head. They can also result from an object penetrating the skull. TBIs are categorized as "mild," "moderate," or "severe" based on the symptoms they present. Although there are countless ways a TBI might occur, you can reduce your risk by knowing how to avoid the most common causes of TBIs, which include:
1. Falls
Falls account for more than one-third of all traumatic brain injuries. The groups most at risk of sustaining a TBI due to falling are young children and seniors.
2. Auto Accidents
Motor vehicle accidents contribute to about 1 in 6 TBIs in the United States. Although they're only the second leading cause of TBIs overall, car accidents are the leading cause of death due to brain injury.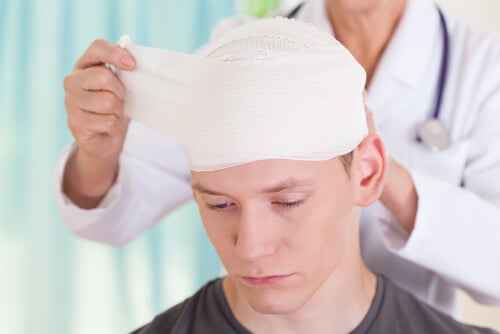 3. Struck-by-Object Accidents
These accidents are especially common in the construction industry, which is why workers are generally required to wear hardhats on worksites. Struck-by-object accidents are responsible for just over 16% of traumatic brain injuries in the United States.
4. Physical Assault
Assault accounts for about 1 in 10 traumatic brain injuries. Fortunately, children and seniors account for less than 5% of assault-related TBIs.
5. Other Causes
About 20% of traumatic brain injuries do not fall into any of the categories listed above, or the specific cause is unknown. It is common for a brain injury not to manifest symptoms until several days or even weeks after being sustained, in which case the patient might not be aware of its cause.
This is why it's so important to visit a doctor after any serious accident like a car accident. You might feel fine or your symptoms might not seem serious, but a severe brain injury may show only minor symptoms in the immediate aftermath of a collision. If you wait too long to visit your doctor for a medical evaluation, the insurance company or at-fault driver might dispute your claim, arguing that your own negligence caused your condition to worsen or that you were injured by something else.
Contact a South Florida Injury Attorney to Discuss Your Case Today!
If you or someone you love sustained a brain injury due to another person's negligence, contact Englander Peebles for a free consultation. You may be entitled to compensation for medical bills, lost wages, pain and suffering, and other damages. Call (954) 231-1384 today to discuss your case with a Fort Lauderdale personal injury attorney.